Early Morning Beaming Moon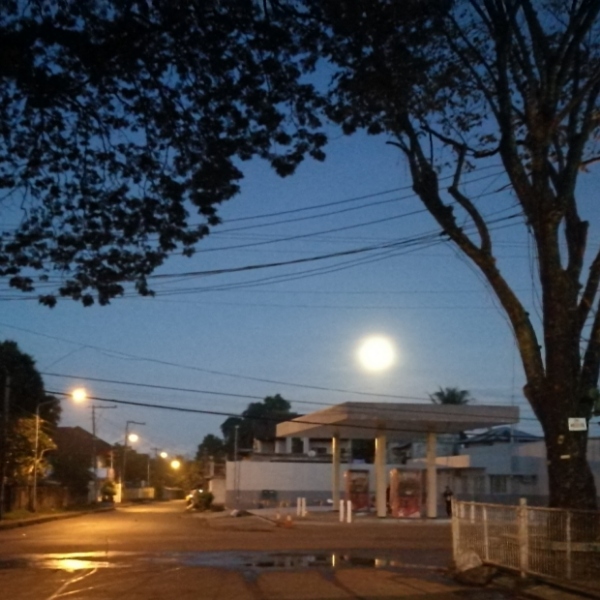 Philippines
December 4, 2017 5:51am CST
What a beautiful sight of the moon I saw this past 4 early this morning. The moon is located at west part of the plaza public. We're heading home with my wife, my eldest daughter and her hubby who drove his motorized tricycle which we used to transport our two grandchildren to the Church for their Temple Trip along with other youths members of the Church. We're all happy and that happiness was magnified by the early morning moon we saw in a far off while going home. I never wasted time. I took my smartphone and captured the beaming morning moon on the 4th of December. Thank you, @JolietJake for the inspiration!

10 responses

• Philippines
4 Dec
great shot. thanks for sharing. i'm not sure my phone can capture that. has it started to get cold at night till early morning there?

• Philippines
4 Dec
@dodoazo
i notice other mylotters from the province saying the same thing. i hope you remember to bring your jacket next time.

• Philippines
4 Dec

• United States
10 Dec
Good picture, it really looks quite large.


• Philippines
5 Dec
This is a great photo. I've seen a number of posts talking about getting photos of the moon last night/this morning.

• Philippines
10 Dec

• Philippines
10 Dec
@allen0187
There's no harm in trying. Try to experiment it so that you may know.


• Redlands, California
4 Dec
That is awesome, love the title, love the pic. My favorite time a day is early morning. Peaceful like no other time of day. The one time a day I do indeed become spiritual. Well done.post.

• Redlands, California
4 Dec

• Philippines
4 Dec
@crossbones27
That is great. How great thou art goes a line from the Church hymn which refers to the Great Almighty.

• Kenya
4 Dec
Mmm that's quite a lovely sight right there. Glad you had a beautiful day

• United States
4 Dec
That moon is so lovely!!!

• Waikoloa, Hawaii
4 Dec
God beautiful hope thiers NO witch flying in Broomsticks or santa and the raindeer passing to the moon



• United States
4 Dec
I tried to get one this morning here, but the cloud cover is too heavy

• United States
4 Dec
That is wonderful to see this morning. The sun just rose here in Ny so I was happy with the night sky as well.