Goal met and new cozy..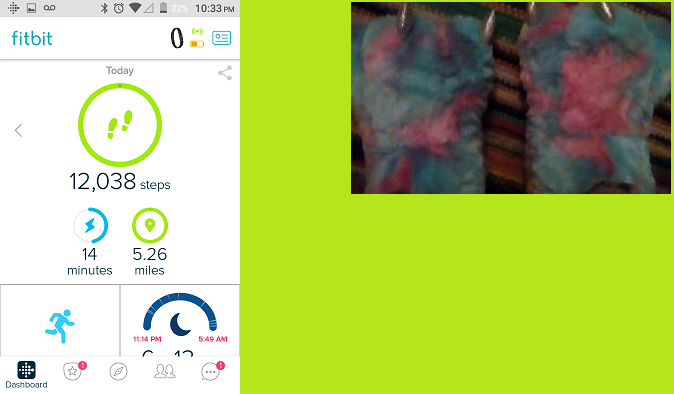 United States
December 4, 2017 9:44pm CST
Yesterday, I didn't meet my goal for steps. It was around 7000 so I was short about 3k! Today though, I got a little caught up! I did over 12 thousand steps which equals a little over 5 miles. I actually did more since I had it off while cleaning so it could charge and I could wash dishes and take a shower. I feel pretty good. The best steps besides walking to get my girls after school was to walk around now in my new slippers! Do you wear slippers???
4 responses

• Canada
8 Dec
Yes, when I come hope, I take off my shoes which have walked on all kind of things and put on slippers which are only worn inside. You just reminded me to get out and go for a purposeful walk which means go for a walk but accomplish something necessary at the same time, like pick up a 2018 agenda which is very important and useful in my daily life.

• United States
8 Dec
I'm thinking to get a paper one to log husbands hours and better plan the gym days!

• Canada
8 Dec
@Daelii
It helps me a lot to keep track of what I want to do and need to do and I have a record. I walked for about 30 minutes to the store and it was windy and it is snowing a bit but I want to toughen my body. The fresh air did me good. I got the agenda, a toothbrush and a few fruits. That's what I call a purposeful walk.


• Canada
5 Dec
I never wear slippers. I like to go barefoot in the house.

• United States
5 Dec
me too! but these are real nice especially when my feet felt sore yesterday!

•
5 Dec
Yes, I do. I always wear slippers when I'm home.

• United States
5 Dec
I usually forget to put mine on. but these are so cozy I put them on after running around getting baby settled.

• Bunbury, Australia
5 Dec
I don't often wear slippers but I have scuff-type things that serve the same purpose..