The Marketing Department 's Winter Wonderland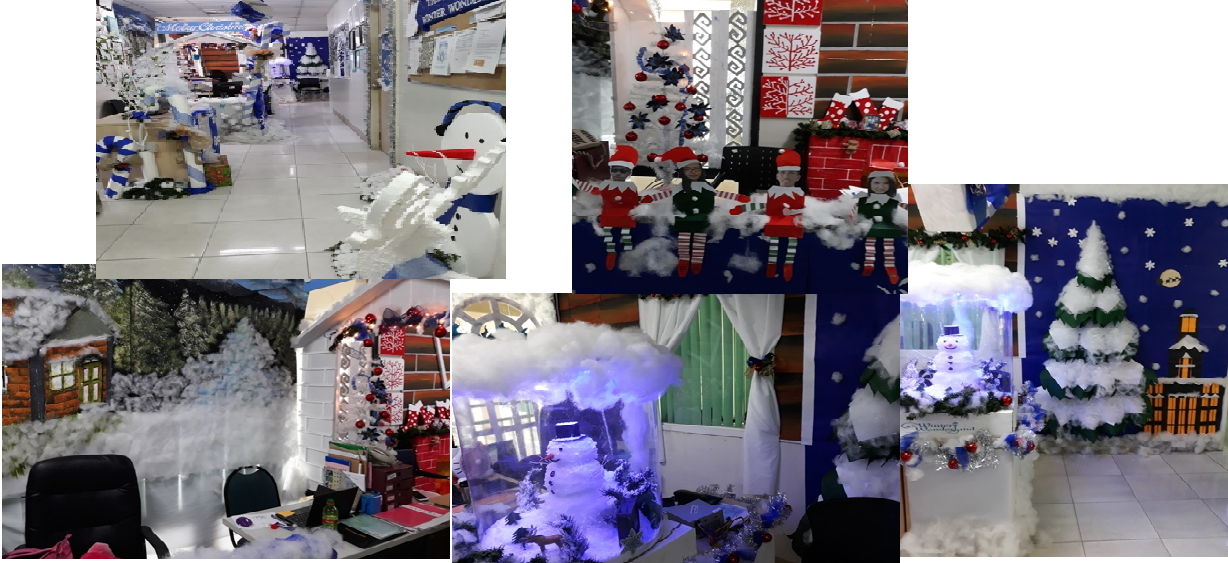 Philippines
December 5, 2017 4:26am CST
I kidded the Marketing Dept. head from the start, that they better make their decorations beautiful above the rest, because their job mainly is making the decorations for all the events of the mall we manage, to which the head said, that's true, that is why they are pressured. So here are the pictures of the decorations on their workplace – the marketing department. For the next days, I will be posting the pictures of the decorations of each department for everyone to take note and judge for yourself, who you think will emerge the grand winner. Two judges surprisingly went around today to each department with a note pad for their judging. But we will beat them in judging since it will be announced yet on the 21st, during our Christmas party. So take note please as I post them each day and be the judges as to who will be the first, second and third. Just for fun! Let's see if the winner here, will be the winner too of the two judges, two ladies, an architect and an artist, who went around this afternoon to judge. There will be some more judges coming in the next days. This is just for us to see if we can also judge as good as them. After all, beauty is in the eye of the beholder.


10 responses


• Philippines
5 Dec
Yes, I will post two departments tomorrow.

• Philippines
5 Dec
@JustBhem
You are a good judge because you really will scrutinize them aell.



• Philippines
6 Dec
Hmm, we have the same taste even in decors.


I shall be posting two today. The other two, tomorrow.

• Philippines
6 Dec
@LadyDuck
And I suppose you are most of the time in your business computer.


• Malaysia
5 Dec
Wow the decor looks very elaborate and realistic. They must have worked really hard!

• Philippines
5 Dec
Yes, that's what i thought of when I saw it finally done. the Christmas tree was made of crepe paper and cartoilna. But they admitted they copied it from what they have seen somewhere.

At least, they were honest enough.

• Malaysia
5 Dec
@SIMPLYD
Well we all need inspiration, right? I don't think that counts as plagiarism.


• Banks, Oregon
5 Dec
Very beautiful decorations it will no doubt be a hard choice.

• Philippines
5 Dec
Thank you. Indeed, the judges will have a hard time judging.


• Banks, Oregon
7 Dec
@SIMPLYD
I think marketing has my vote, but also logistics and leasing.

• Philippines
14 Dec
@TRBRocks420
So it's Marketing 1st, Logistics 2nd and Leasing , 3rd. We both have Marketing for the grand prize winner.

• Daytona Beach, Florida
6 Dec
It is very lovely. Love the look of that fir tree with snow falling.

• Philippines
7 Dec
Yes, that one is beautiful and so creative. It's made of cartolina and the cotton-like stuff that is being stuffed in pillows.

• Philippines
6 Dec
i like the decorations. i like the white tree with green at the edges. from what i see, those are soap suds, or i am wrong again?


• Philippines
6 Dec
No, they are the cotton-like stuff that is placed on a pillow. I like that too.

• Bunbury, Australia
5 Dec
I can imagine you will all be very excited by the time the 21st comes.


• Philippines
5 Dec
That is so true. Today, when two of the judges came they were excited. I wasn't since the decoration of our department was simple, not so creative as the above nor he others.

• Canada
5 Dec
Some of the winter displays can be breathtakingly beautiful. There are others that are just so tacky.

• Philippines
5 Dec
Indeed. Actually, since the affiliate on the next floor where our general manager is also their manager ans where she always hold office, has been doing for 3 years this contest. They already had this theme. Though, I am proud to say we did it more beautifully. And for me, it's the most beautiful theme.


• Philippines
5 Dec
Thank you. Though, I already conceded to them silently. That's because our decorations are nt as elabrate and creative as theirs.

• Philippines
5 Dec
i love the one with the elves!

• Philippines
5 Dec
Yes, that one is nice indeed. Though, it's part of their department and as you can see the deors are unique and creative.