Is The Curse of Oak Island the most pointless TV show ever?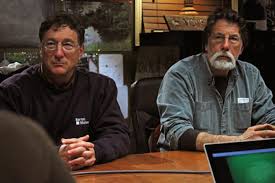 Northampton, England
December 5, 2017 4:46am CST
There is an old saying that in the Gold Rush the people who sold the shovels were the ones that got rich, the excitement for digging for treasure equal to sex for some, most finding only flecks of both in the Klondike's with cheap hoar's and long days back in the 1900s. That fever is an ideal ingredient for all these reality TV dramas on our TV these days, everything from storage lockers in Texas to the goldfields of Australia, picked over by men with big hats and women with likewise chests. These seem to be the essential ingredients of these shows although The Curse of Oak Island has yet to introduce their version of Brandi Passante. It needs a Brandi as its delightful naff TV. The series is about a tiny private island off the coast of Nova Scotia, Canada, where the likeable treasure hunting brothers Rick and Martin Lagina have bought great chunks of the island to try and find treasure. In the 1850s there was an event exhibition that created tales of great treasure hidden there over the century's deep underground a mysterious tunnels were uncovered with booby traps that flooded them, treasure hunters say to protect the islands secrets and treasures. Some 50 books have been written on the mystery alongside various TV shows over the decades. Problem is Oak Island is into its 5th season on History channel now and not a lot has happened as far as finding treasure. When they do find some sort of evidence of older excavations or historic artefacts it generally comes to a dead end. They tend to spend most of their time digging up stuff from previous expeditions to the island. It's all rather pointless. The boys try everything and entertain many ideas as they burn up their money all year around. Maybe they just keep going to stay on TV or maybe they really do believe something big is there. To keep it going various experts and crackpots are invited to the cabin to discuss their theories on what's there and who put it there, ranging from the British hiding the Empires plundered stuff to the Arc of the Covenant. The experts get on TV, increasingly potty characters and the brothers investigate their theories with their big diggers and the island now has more holes than North Korean missile test site. The brothers have to entertain their ideas and research so the producers can drag the TV series into another series. It really does get desperate at times as stuff is bought in from elsewhere to back up the treasure theories, like a rusty bronze Roman sword from 300 miles away that turned out to be a cheap souvenir from the 1920s. They only things they have found of note appear to have been 'introduced' to the island by someone quite recently or of no significance, like when TV people plant stuff in the lockers on Storage Wars so you don't think the buyers have bought someone else's personal junk , which they have, of course. I hope the boys find something to make it all worthwhile but you know they want and yet still watch this thing.
7 responses

• Spain
5 Dec
Ricky and Martin!!! makes me want to sing!! Living the vida loca!!

• Spain
5 Dec

• Los Angeles, California
5 Dec
I have never bothered tuning into this series. I wait for American Pickers.

• Northampton, England
5 Dec


• United States
8 Dec
I do find the artifacts found interesting as it certainly changes my junior high school American/ Canadian History lessons textbooks as to when the area was actually inhabited by just a few people . . .


• San Diego, California
5 Dec
Hmmm. Not one I'm familiar with. Do you watch this alone
@devilinme
?

• United Kingdom
5 Dec
Yes agree about the never-ending reality TV. Think I saw a documentary on them once - ok for an hour but hardly worthy of a full series. I get fed up of watching 'ordinary people' doing ordinary things!