Have a terrific Tuesday!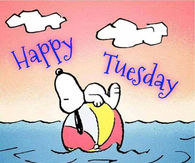 United States
December 5, 2017 6:15am CST
Good Tuesday morning everyone. It's a cold, wet rainy morning here in my neck of the woods. Supposed to change into snow later tonight, yuck Tis the season though. I am exhausted and wish i could sleep a few more hours. I went to bed at 11pm and woke up at 3:15am having a coughing fit so took some dayquil so i could go back to sleep. I went to bed at 4am and up at 630am when my alarm went off. I feel like I got no sleep at all but working 8-430 today. I'll take a nap once I get home from work that's for sure. Today is going to be another busy day at work but atleast it will make the day go by fast. Still got lots of food left over from yesterday so we'll be munching again today. For my gift yesterday I got 2 lotions from bath and body works and a candle that i love vanilla pumpkin spice it smells so good. The person I got for the exchange got a dunkin donut gift card which she loved also. So today gotta buy tickets for the basket raffle were having tomorrow and hopefully I'll win but I doubt it. Lots of fun things happening this week. But right now i'm drinking coffee watching a cinderella story and soon gotta finish getting ready for work. I hope everyone has a great day today and i'll be around later tonight. Photo Credit: lovethispic.com
10 responses


• United States
5 Dec
@shaggin
i like this movie too. I was happy when i received the gift i have yet to light the candle but I will.

• Jacksonville, Florida
5 Dec
I hope work goes fast for you and I hope you feel better after your nap later. =)

• United States
5 Dec

• United States
8 Dec
@Tammys85
nope but my dad won a basket, he got a crockpot with some gift cards, a bunch of soups, towels, washcloths etc.

• United States
12 Dec



• United States
9 Dec
@DianneN
I didn't win anything butm y dad won a crockpot with some towels, washcloths, a different bunch of soups, spices etc.

• Indonesia
8 Dec
Very busy and happy day for you.

• United States
5 Dec
I'm having an ok day. Bath and Body Works has some nice stuff. My mother had left here some gingerbread hand soap that I just started using. I hope I don't run out of it because I love it. I got two books from Open Library and converted to my Kindle. I also got the mail to get a package that came. I'm hoping to finish reading a book later.

• United States
5 Dec
@jessy3236
yes they do have some awesome scents and i love buying stuff from there. I love gingerbread also but if you do run out atleast you know where to get it from. I got more packages in the mail today also got lots of wrapping to do and just ordered more christmas gifts as well.


• United States
5 Dec

• Los Angeles, California
5 Dec
Have a good and easy day at work.

• United States
5 Dec


• Philippines
5 Dec
My day went fine. I hope you are going to have a nice day today. =)

• United States
5 Dec