The Administrative and Leasing Departments' Winter Wonderland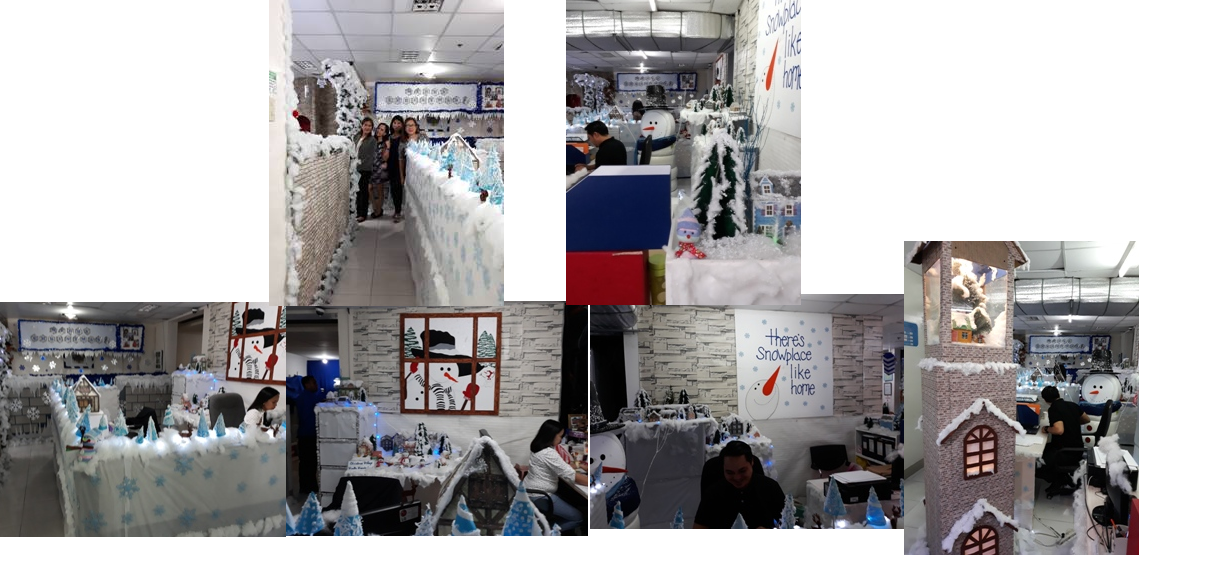 Philippines
December 6, 2017 3:55am CST
As I have said, I will all let you all judge who you think will end up the grand prize winner in our office's winter wonderland themed decorations contest. So here comes another department. Today, I would like to show you pictures of the Administrative/Leasing Department's decorations. They were combined since they are just two small spaces adjoined and are composed of 3 and 2 people respectively. As you can see they have their winning pieces like that tall house-like showcase of a small Christmas tree and their snowman peeping at the window. Their decors of carton shaped small snowy houses which were actually from the internet's picture of houses are all over their office spaces. In a little while, I will post another well-decorated department.

7 responses

• Philippines
7 Dec 17
pretty pretty decorations

• Philippines
7 Dec 17
Yes, so cute those small snowy houses and that snowman peeping on the window. So creative.



• Philippines
8 Dec 17
@SIMPLYD
well, almost all of the employees did their helping hand, so i say congratulations to you all, my lady.


• Philippines
12 Dec 17


• Philippines
7 Dec 17
Very true.

Although they said that the Christmas tree idea was copied somewhere where they went to market. But that's okay. At least, they made a good one.



• Philippines
7 Dec 17
Really.

Actually, when they were almost finished and Marketing hasn't yet, they were my bet. But when the Marketing Dept. finished, it seems it was they I had in mind for the grand prize.

Yes, are so creative too indeed.

• Daytona Beach, Florida
6 Dec 17
This is wonderful it looks as if they have created like a small Christmas village. Well done.

• Philippines
7 Dec 17
Thank you.

I agree they did the Christmas Village and they're really cute.


• Daytona Beach, Florida
7 Dec 17
@SIMPLYD
This is the one that is at the top of my list now.

• Philippines
7 Dec 17
@RasmaSandra
So this one is your no.1. They have so much creativeness actually ; the peeping snowman, that Christmas tree inside a tower like house , and that There's no snowplace like home.

• United States
6 Dec 17
They went out with a bang with that decor job. I wish that were my hallway.

• Philippines
7 Dec 17
Thank you.

Indeed the hallway, seems a very cold place and very nice to walk by. The one on the left is the Logistics. On the right side was the Admin/ Leasing's place .

• Banks, Oregon
6 Dec 17
Love the tall house and snow man.

• Philippines
7 Dec 17
Yes, that two particular decors are their strong points to win the grand prize.

• Spain
6 Dec 17
I love that!! what a lot of effort they have put in!!

• Philippines
6 Dec 17
Indeed.

They have some utility staff and bowling staff to help them do it in their spare time.