Favorite songs from 1989 # 5- I'll be there for you.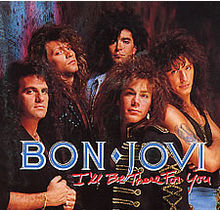 Banks, Oregon
December 6, 2017 4:38am CST
Coming in at # 5 on my favorite songs from 1989 series is one of my favorite Bon Jovi songs, from the New Jersey album, I'll be there for you, it was also a huge hit, coming in at # 1 on the billboard hot 100. Check out a sample of the lyrics below. I think you will like them. I guess this time you're really leaving. I heard your suitcase say goodbye. Well as my broken heart lies bleeding. You say true love is suicide. You say you've cried a thousand rivers. And now you're swimming for the shore. You left me drowning in my tears. And you won't save me any more. Now I'm praying to God you'll give me one more chance girl. I'll be there for you these five words I swear to you. When you breathe I want to be the air for you. I'll be there for you. I'd live and I'd die for you. Steal the sun from the sky for you. Words can't say what love can do. I'll be there for you. Some information verified at Wikipedia, it was also # 5 on the mainstream rock chart, some of the greatest lyrics ever written though. Photo is from Wikipedia.
6 responses

•
6 Dec
Love the lyrics of the song.

• Banks, Oregon
6 Dec
Me to very awesome lyrics.

• United States
7 Dec
I loved this song when it came out. Great pick for your countdown.

• United States
6 Dec
Those lyrics really are quite beautiful. A wonderful song by Bon Jovi!

• Banks, Oregon
6 Dec
Thank you my friend and good to see another fan.

• Jakarta, Indonesia
2 Aug
this is really a very good ballad. I really like this song like I like other bon jovi songs The first time I listened to when I borrowed a Crossroad album from my friend in 1994. A rock album that might be remembered by rock music fans forever, because there are also 2 new songs that are also very good Always and Someday Ill be Saturday Night I'll be there for you it's also very nice to sing when karaoke, as long as you have a strong voice and enough stamina to sing it

• Banks, Oregon
2 Aug
I love always and, someday I'll be Saturday night too, plus most of Bon Jovis songs.


• Banks, Oregon
7 Dec
Good to see another fan and I love that show lol.

• Colorado Springs, Colorado
7 Dec
Guy I was in the Army with had this. Played it all the time.

• Banks, Oregon
7 Dec
Pretty awesome song. I listened to it quite a few times too.