When you knit how do you know how many to cast on to make like a scarf or sweather?

December 6, 2017 8:52pm CST
I am an amateur knitter. I made one thing in my life and that was a afghan with lots of help and lots of mistakes. I am trying to take up knitting again and had someone show me how to cast on and tell me how many to put on to make a scarf. Do you know by heart how many to cast on for a scarf, sweater, etc? I have to ask and my first project after the afghan is a scarf. Wish me luck.
4 responses

• Bunbury, Australia
7 Dec
Good luck! I wouldn't know how many to cast on. It depends on the thickness of the wool and the needles you use. I could crochet just about anything without a pattern but not knit.

•
7 Dec
So with crocheting Judy you do not need a pattern and it will turn out whatever you want to make? That is really cool.

• Bunbury, Australia
7 Dec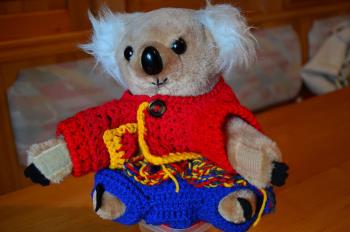 @Hannihar
I have done such a lot of crochet over the years that I can now make pretty much whatever I want to. Here is a jacket and pants I made for a koala.


• United States
7 Dec
I would look up a pattern for what you want. Ravelry is a good site to find them.

• United States
8 Dec
I wish you luck! I recently learnt how to loom knit but really only know how to crochet!

•
10 Dec
Loom knit sounds cool. So do you put the yarn on a loom and knit from there Robin?


•
7 Dec
Rodrick, thanks but I ask someone how many I need to make such and such.