49th State Brewery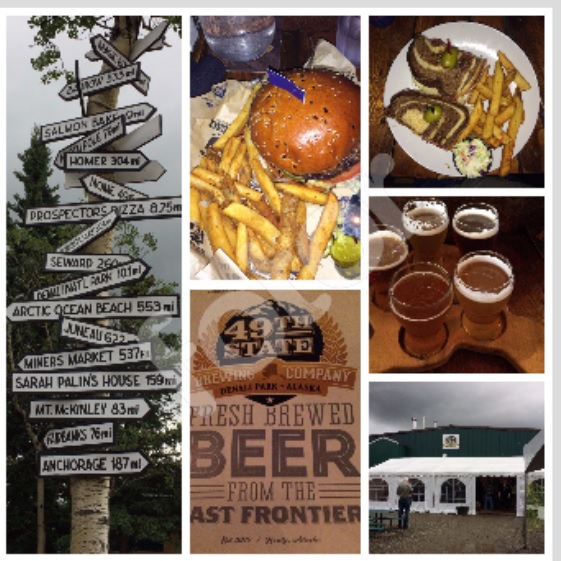 Derby, England
December 7, 2017 7:03am CST
We visited Alaska this year and that completed all the states of the USA for my husband. I still have a few more to visit. We stayed near Dinalai and one night went to this brew pub in Healy for our evening meal. It was buzzing with people and so crowded we were worried we would not get in but they squeezed us in near the fire pit which got very hot after a while but was nice initially. We shared a beer flight of their own beers and I had a HUGE Venison burger with fries and my husband had a Brewhouse Reuben with marbled rye bread. We swapped half way and found both were tasty. I struggled so swapped about quarter way through mine! We didn't have any desserts!! We found it really hard to find anywhere to eat close to where we were staying and this was about ten miles away. We felt we should try the 49th State Brewery beers as we always like to try local specialties so we were lucky that this was the closest lace to eat from where we were staying. There was no food to eat at our accommodation so we managed on fruits and snacks we had bought in Anchorage most of the time so this made a pleasant change. The entrance was through a tent which was a little strange but it was cosy inside the main building. We loved the signpost outside with various places of interest and we laughed when we saw it signed Sarah Palin's house! Do you enjoy trying local food and drink when travelling or do you prefer to play sfe and eat what you always eat?
7 responses


• Derby, England
7 Dec 17
@MALUSEI
would never eat anything endangered and not sure I would eat monkey meat. Having said that we did try the fermented shark a specialty in Iceland - it was disgusting! Luckily they only gave you a piece the size of a sugar cube!!

• Uzbekistan
7 Dec 17
@catsholiday
I have no problems declining a local speciality. My theory is: if the locals offer a foreigner something, it means that *they* think it's delicious. So, if I decline, they can eat my portion, too, which should make them happy. I'm not a picky eater. My mother was always content with me. But I declined stockfish/dried cod when my husband and I were invited by a family in a city near Naples. It was the Easter Sunday meal and I'm sure that nobody was unhappy that I didn't eat the speciality. What do you say about this: a kid drinks milk from the udder of the mother goat. Then it's killed and the meat is eaten. The stomach which is full of milk is roasted over an open fire. The milk becomes a kind of soft cheese. I tried half a teaspoon and nearly fell off my chair. It's so hot/sharply flavoured! It's a speciality among the shepherds of Sardinia. My husband is in heaven when he can get it.

• Derby, England
7 Dec 17
@MALUSE
That sounds disgusting! I will try most things but I passed on buffalo skin in a stew in Laos. It was fatty and looked disgusting :(

• United States
8 Dec 17
I love to try new things, my husband is fussier but as long as they have some kind of beef, he is usually happy lol

• Derby, England
8 Dec 17
@BelleStarr
My husband tries everything even the most disgusting things like 110 day old eggs in China!!

• United States
9 Dec 17
@catsholiday
yuck!! Not me, It has to at least appeal to me!! lol

• Derby, England
10 Dec 17
@BelleStarr
The egg even he admitted was disgusting. I won't eat anything that looks or smells rank !!


• Bunbury, Australia
7 Dec 17
I like trying local dishes but I'm always a tiny bit disappointed if I don't have room for dessert.

• Derby, England
7 Dec 17
Me too as i have a sweet tooth but I was seriously over faced here!

• Bunbury, Australia
8 Dec 17
@catsholiday
Sometimes when faced with a huge meal I immediately lose my appetite.


• United States
8 Dec 17
Congrats! What states do you have left?

• Derby, England
8 Dec 17
FayeHazel Kentucky, Florida, Texas, and a few others

• United States
10 Dec 17

• Derby, England
10 Dec 17
@FayeHazel
Thank you hopefully i will get to see them all !

• United States
7 Dec 17
That sounds wonderful and the food sounds really good. My sister and husband are going to Alaska in February to go skiing i am jealous.

• Derby, England
7 Dec 17
@Blondie2222
It was interesting to visit but quite an expensive state compared to some

• United States
8 Dec 17

• Derby, England
8 Dec 17
@maezee
We started inAnchorage and drove to Dinali then back towards Anchorage and ten to Seward and back to Anchorage having done two day cruises to see whales and glaciers


• Derby, England
7 Dec 17
@Fleura
I agree trying new food and drink is one of the many special parts of travelling