Well which one is it?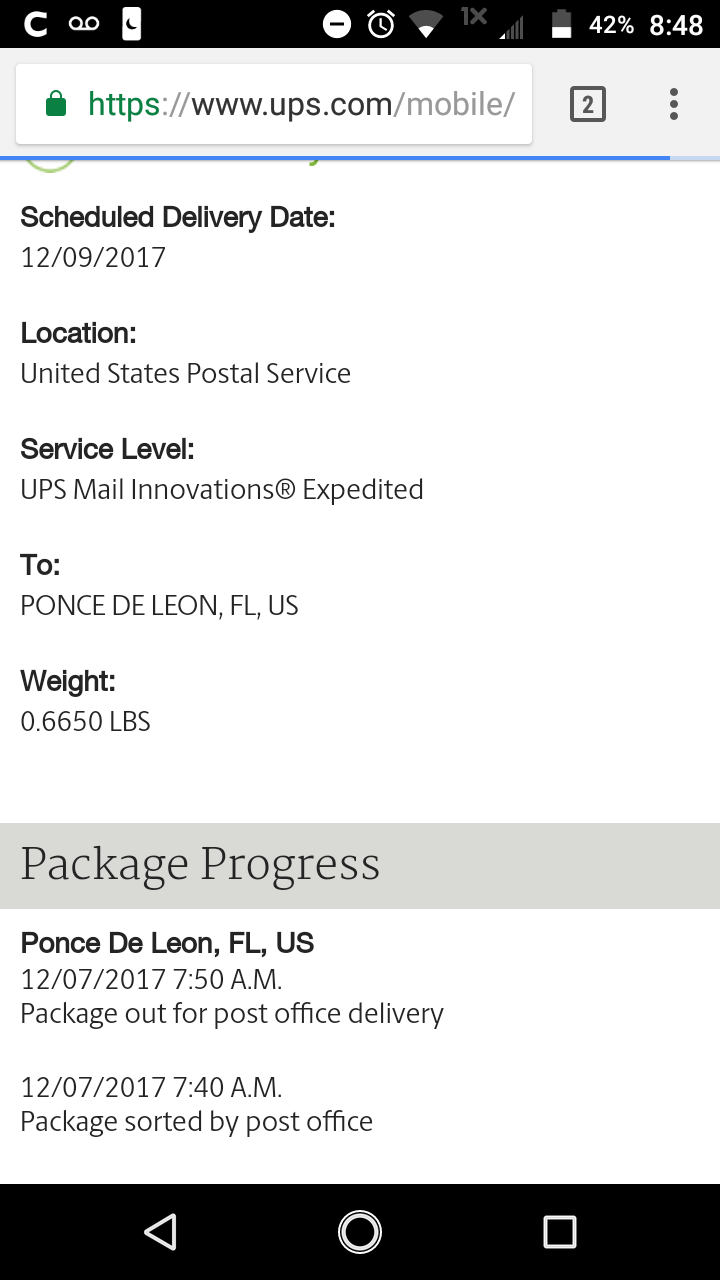 Ponce De Leon, Florida
December 7, 2017 8:55am CST
A few days back @JolietJake posted about his conflicting delivery reports on his package and when I went to UPS website earlier this morning to find out where one of mine was and when too expect it, I saw that it was out for delivery today but the expected delivery day was the ninth. So we will see. Usually when it says out for delivery I get it that afternoon. Screen shot is mine of confusing UPS update.
9 responses


• Ponce De Leon, Florida
7 Dec
I wasn't saying I don't have patience.

• Peoria, Arizona
7 Dec
Well that is very confusing, but understandable this time of year. I wouldn't expect anything on time. Hopefully it gets there soon!

• Ponce De Leon, Florida
7 Dec
I'm hoping it comes today..it should have two DVDs in it. Lol.

• Hyderabad, India
7 Dec
You have no other go but to wait for the delivery

• Ponce De Leon, Florida
7 Dec
I don't have to wait that long. Mail comes at like one pm.

• Paradise, California
7 Dec
I relate to your difficulties. I have had more trouble this year with tracking than I've had in a long time. And from all the delivery services, not just one. I've started to adopt the attitude "I'll see it when it gets here." In previous year sthough, I have had a few items misdelivered for seemingly no reason. The address is clear on our house, and the address is clear on the package but it winds up at the wrong house. Thank goodness the people who receive these things have all brought them to me. Good luck with your packages!

• Ponce De Leon, Florida
7 Dec
Our mailbox is up the road. And usually the smaller ups packages are handled through the post office guy. We live in a small town where the mail guy drives his own car. The UPS truck has only been down here three times. Lol.

• United States
7 Dec
I wish our neighbors did that! The name of my road is the same for like 6 others with the differences being road, street, drive, etc So I've lost a few packages! So I do rely on website to tell if its delivered or not! Lol I hope op gets it today so she has something to watch!

• Ponce De Leon, Florida
7 Dec
@Daelii
there are only six roads in town here. Lol . We only have two neighbors.

• Los Angeles, California
7 Dec
I guess you will get it when you get it.

• Ponce De Leon, Florida
7 Dec
I'm hoping today. I didn't rent any Redbox movies last night in hopes that I would have something new to watch today on my day off. So we will see.

• Green Bay, Wisconsin
7 Dec
I don't find it confusing. The expected date is what they told you. However, at the bottom, it says it's going to be delivered today, and that's great.

• United States
7 Dec
Sometimes mine arrives on time, other times not so much... its always a guessing game. I seen a postman running at 7 pm last Saturday!

• Ponce De Leon, Florida
7 Dec
They all came today before two pm today?