What Happened? Don't Know! I Fell Asleep.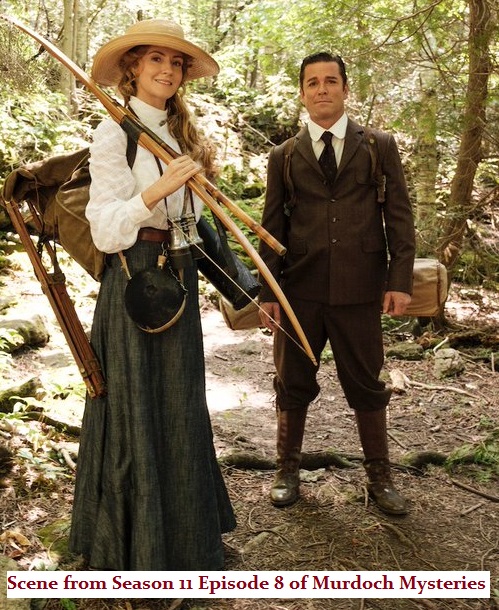 Austin, Texas
December 7, 2017 11:49am CST
"Murdoch Mysteries"
is a TV series about Detective William Murdoch, a sort of Sherlock-Holmes-type who solves crimes. The time and place where all of the puzzling mysteries are solved is Toronto, Canada, at the turn of the 20th century, when we were just learning about motor cars and electricity and Canada was still under or linked to the British.
"Canada's final vestige of legal dependence on the United Kingdom was terminated in 1982 with the enactment of the Canada Act, subsequently providing Canada with full legal sovereignty completely independent of the United Kingdom."
(Source: Wikipedia) Started watching the series because it was at one time available on Netflix. I got attached to the detective, his wife, and the entire cast actually. So I hunt for sites that have free online video streaming of this show so that I can continue watching. I found a site that had the particular episode that I have been waiting for weeks to watch. Finally! Finally!! The episode I've been waiting for has been uploaded! YAY!! I started watching it and ... ??? Next thing I know my husband is nudging me, waking me out of a deep sleep (I was exhausted and didn't even know it). I hear him saying
"Gosh! You must really be tired. You never fall asleep with your computer on. Turn it off!"
Yep yep. Waited weeks and weeks and weeks to watch that episode and fell asleep on it!!



Moral of the story? You can never win a fight with The Sandman.


"Detective Murdoch & Dr. Ogden may be just a little over-prepared for Monday's all-new #MurdochMysteries on CBC at 8pm/8:30pm NT! ?????????????????? But you won't want to miss this episode! #MMXI"
8 responses


• Austin, Texas
7 Dec
Yesterday was an extra busy day for me but I got through it and did what I had to do. I was just going to watch that one episode and go the sleep. But I didn't know my mind and body had other plans.



• Daytona Beach, Florida
7 Dec
That is what I like about watching movies on the Internet, YouTube or on my videos if I fall asleep I can just restart the movie.

• Austin, Texas
7 Dec
Not only can you restart but you can binge watch over and over and over. I do that. My kids thinks I'm crazy. But they don't understand. In my generation we never restart or binge watching. If you missed a series and you missed the reruns of the episodes, that was it! Now that I can restart or binge watch my favorite shows I feel like a kid in a candy store!!


• Daytona Beach, Florida
8 Dec
@cmoneyspinner
presently I am watching Dallas all over again and just like the first time I want to shoot JR once and for all. In fact now I can watch it again with a new perspective and I can say that was one crazy, messed up family.




• Austin, Texas
8 Dec
@RasmaSandra
- Totally messed up!


Good TV show though.

• Los Angeles, California
7 Dec
I have seen the first 9 seasons of Murdoch and currently watching episodes from season 10.

• Austin, Texas
7 Dec
I've gone through all of them and to be honest wouldn't mind starting over and watching them again. Murdoch is the main character and I do like him. But I also really like George Crabtree!

• Canada
8 Dec
@cmoneyspinner
Jonny Harris (George Crabtree) is also a stan up comediene. He has another show called "Still Standing". He goes to small towns across Canada. Usually towns that have found some creative ways to survive. He spends a few days interviewing people, and touring the town, on camera. Then he creates a stand up routine about the town and the people. Mostly entertaining to the town itself, but a cute show to watch. I am sure non Canadiens would not find it interesting.

• London, England
7 Dec
Sounds good, may watch this over the christmas holidays!

• Austin, Texas
7 Dec
It will be fun. They have a few Christmas episodes as well.


• Austin, Texas
7 Dec
Yes. I think so. Sometimes these sites upload video and then the video gets zapped! But I think I can.



• Bunbury, Australia
7 Dec
I guess you'll just have to try again when you're not so tired. It will be funny if you fall asleep again .