Marathon running...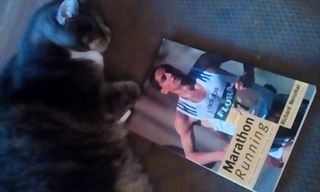 United States
December 7, 2017 2:08pm CST
I've been having fun jogging/running with my kids. They are really good at it too. So it was a real nice find to see this book free at the local missionary. I plan to read it with my kids. I already started a little solo reading but hey, useful content can be read more than once! Have you ever practiced running? any tips for a newbie?
9 responses


• United States
8 Dec
My 11 year old grandson ran in the Fort Worth marathon last year, and is training again this year. I was going to write about it soon. They offer it through his school.

• United States
8 Dec
that is so awesome! i am glad schools are offering more and more for kids having opportunities for things.

• United States
8 Dec
I tried to be in an Aids marathon one time..not much of a runner here though..plus I never raised enough money. You needed 2,000 bucks in donations to go to New Orleans..so no tips here, but good luck!

• United States
8 Dec
oh wow! I will start local then! :)

•
8 Dec
No, haven't tried running.


• United States
8 Dec
yes! that has been what I've been doing to get back into running/ being active after my dr cleared me for working out! I'm hoping to steadily increase distance.

• Bunbury, Australia
7 Dec
No tips - I don't do running.

But I agree that informational books can be read over and over.

• United States
8 Dec
or same topic different authors for more information / perspectives! but this is a fun great start read!

• Daytona Beach, Florida
7 Dec

• United States
8 Dec
i\its never to late to start!

• United States
7 Dec
My husband has run marathons, 28, I believe. He ran the Boston Marathon years ago, and his final marathon was this past July, a 24-hour marathon. As for me, I am just a walker, not a runner.

• United States
8 Dec
that is awesome of him! I will be grateful to be able to do one!