The Tens Unit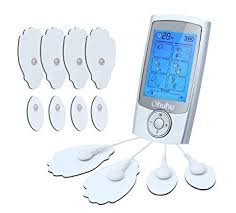 Virginia Beach, Virginia
December 9, 2017 11:25am CST
DISCLAIMER: I ain't sellin' nothing'! Over the years, as we've gotten older, Becky and I have invested in quite a few "creature comforts". Most of those have been some type of massager. Not just the hand-held kind, but cushions, chair back units, and even a couple that massage the feet. Most come with built-in heat. While they might give some relief, (or make the soreness worse), none of them have ever completely relaxed sore muscles like advertised. However, I made a discovery at the PT yesterday that I have to share with all of you. From what I've read here, quite a few MyLotters could benefit from this product. You may already know of this but it is new to me and I am excited. This might be the answer you're looking for too. When I first saw this device I thought I was getting an EKG but was delighted to discover what it actually did. Something that is changing my whole life. Pain causes me to lose a lot of sleep. When I do manage to doze off, I tend to shift into another nerve-pinching position. Then I'm wide awake again. The great news is that when my therapist "hooked me up", (sticking 4 electrodes on my back and neck.) and turned on this machine, within 5 minutes I had fallen into a deep sleep. She had to shake me to wake me. I even felt quite refreshed. The cell-phone-looking apparatus in the picture is called a "Tens Unit". It is smaller and more portable than the one used on me, yet it still has a variety of programmable settings. Julia, the therapist told me that she has a couple of her own that she uses, even while driving and working. She has to drive a lot and with this unit clipped onto her belt, is eliminates neck pain during long hours at the wheel. She also told me that the Tens Unit is available, (and affordable), through Amazon. The one in the picture is only $26. I could go on and on about this thing but it would be better if you looked it up for yourself. You can learn a lot more than I can tell you. I am ordering two of them. One for me and the other for Becky's Christmas present. I'll bet she will hug my neck!
9 responses

• Defuniak Springs, Florida
9 Dec
That's the best Christmas present you could give her.

• Virginia Beach, Virginia
9 Dec

• Defuniak Springs, Florida
9 Dec
@UncleJoe
I'm glad they found something to help you!

• United States
9 Dec
I read this entire post of yours to my husband. His neck has bothered him since the day I married him. Even when he was in the Army, he had to see the doctor about his neck. Of course, the older he got, the more his neck bothered him. He is going to give this a try since nothing else works to relieve the pain. Thanks for sharing this with us Uncle Joe!!!

• United States
9 Dec
@UncleJoe
My husband is going to buy one. His poor neck has bothered him for decades. Thank you again for suggesting this.


• Canada
9 Dec
I wonder if this would relieve the soreness my hubby experiences in his posterior after hours of sitting in a car.

• Virginia Beach, Virginia
9 Dec
From what I have read, you can place those electrodes around any sore spot to get relief
@MorleyHunt

• Canada
9 Dec
@UncleJoe
I'll keep that in mind. I have a bit more padding than my dear hubby....he just doesn't tolerate the long sit as well as I do. We actually bought him a pillow to sit on while driving.

• United States
9 Dec
This ol' hillbilly loves her TENS unit.

• Virginia Beach, Virginia
9 Dec
@FourWalls
I'm glad you discovered it. I can't wait til mine arrives.

• United States
10 Dec
That's amazing that this exists. I hope it helps you and Becky who might give you a kiss or two also.

• Bunbury, Australia
9 Dec
We got a TENS unit for my mother and now we have it. I may need to find it again.

• Jacksonville, Florida
9 Dec
My husband had a tens unit used on him when he went to physical therapy after hurting his hand. It was painful for him but I am pretty sure that's because he wasn't healed yet, and it was soon after surgery. I'm glad the unit brought you relief and I hope it does wonders for both of you! =)

• United States
9 Dec
thAt is awesome there.Good for you.