Favorite movies from 1989 # 3- Uncle Buck.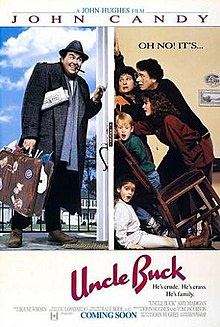 Banks, Oregon
December 9, 2017 10:10pm CST
Coming in at # 3 on my favorite movies from 1989 series is one of the funniest movies of all time, starring John Candy, it's none other than Uncle Buck. I love this movie, my favorite part is where he goes looking for his niece, he thinks her b/f is taking advantage of her at a party. So, he forces himself in the room, catches him with another girl and kidnaps him throwing him in his trunk lol. Some information verified at Wikipedia Macaulay Caulkin and, Laurie Metcalf are also in the movie. Photo is from Wikipedia.
8 responses


• United States
10 Dec
This has been one of my favorite John Candy movies since I was a kid! Love Uncle Buck.


• Banks, Oregon
10 Dec

• Canada
11 Dec
Great pick! I loved John Candy movies. He was so funny!

• Banks, Oregon
11 Dec
Good to see another fan and me too. Candy was the best.

• Roseburg, Oregon
10 Dec
That sounds like a movie that I would enjoy watching.

• Denver, Colorado
11 Dec
Yes! I loved John Candy even back when he was on SCTV. Excellent, excellent choice!

• Banks, Oregon
11 Dec
Candy was a one of a kind, a lot of funny people but only one Candy.

•
11 Dec
Extremely funny movie! Another SNL alum who was a success on the big screen.

Fantastic cast, a who's who of talent: William Windom (The Farmers Daughter) , Anna Chlumsky (Veep) and Patricia Arquette (Boyhood) make up a stellar cast...

• Banks, Oregon
11 Dec
Yes one of my favorite funny movies and great cast too.

• United States
10 Dec
I liked this movie a lot. I love the conversation he has with Macaulay Caulkin at the the table.

• Waikoloa, Hawaii
10 Dec
i love caulkin in home alone