Trolls – Trolls – And More Trolls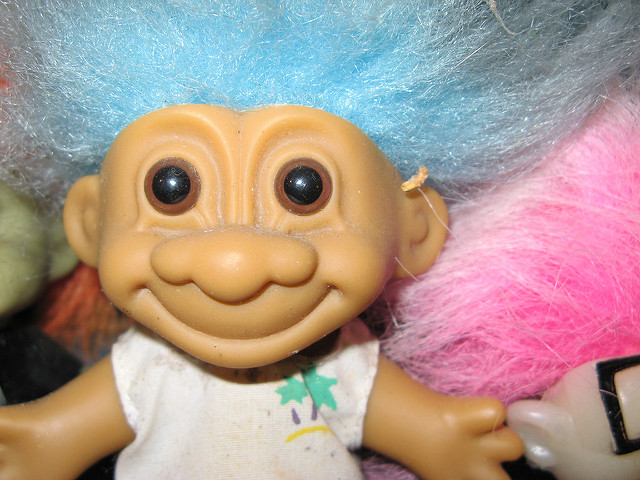 French Polynesia
December 10, 2017 12:05am CST
The other night on Skype my brother and I were talking about the time we would go to California and visit with our grandmother. Down the street from her was a store called Newberry's. We would go to the store and buy chocolate covered raisins from the candy counter for a dime. We came out of the store with a giant bag of chocolate covered rasins. But the best part about this store was the collection of Troll dolls they had and the large variety of Gumby and Pokey's they had. Every chance I got I'd race down to the store and buy a new Troll for me. I had so many of them it was amazing. I also had all the collection of Gumby and Pokey rubber figures. I had them in all sizes. It was amazing what you could twist them and make them do. My Trolls would sit on top of Pokey and be displayed in my room. When I was sent to Hawaii for school I had to leave all these behind in France. I was promised that they would always be there for me. When my parent's finally left France and move to California, I was sure they'd bring my stuff with them. To my shock, amaze and disappointment my life as a child was reduced down to a shoe box filled with stinky dolls. My dad's job took us all over Europe and everywhere we went someone had to give us a stupid doll from that country. I says thanks and throw them in a shoe box under my bed. The only thing my mom salvaged from my childhood was that stupid shoe box. My life was reduced down to a shoe box filled with worthless dolls that I could care less about. I never liked them when I was a kid and I sure didn't like them when I was an adult. I handed them back to her and told her to keep them. I didn't want them and I would just throw them in the trash. To my amazement the other night my brother and I were searching online and we found people selling Trolls. It was fun to see them again and it made me miss mine. So sad that what you love when you're a child is gone forever. My brother found his lawn dart game we use to play and when we were tired of the game we throw them at each other. We had a lot of laughs looking at the toys we had growing up. What were some of your favorite toys you had when you were growing up? Have you ever tried finding them again?
7 responses

• Defuniak Springs, Florida
10 Dec
We had a Newberrys in Portland, Oregon where I grew up. They had great toys.

• French Polynesia
10 Dec
You can say that again. That was the best part about visiting grandma was going to that store and buying new toys to take home to France.

• Defuniak Springs, Florida
10 Dec
@poehere
I was pretty sad when they went out of business. The one in Portland went under I think when I was 11 or 12. It's a dollar store now.

• French Polynesia
10 Dec
@thislittlepennyearns
When I went to go live with my grandma when I was 15 to finish school the store was still there that year, but closed shortly after this one. That year during the holidays I got a job with the stores in the small mall and painted the windows with Christmas decorations. I went down there and showed them my sketch book and they hired me to paint their windows. Now that one was fun.



• French Polynesia
10 Dec
I was given dolls as a child and they were thrown under my bed in a box or in the case they came in. I just never liked them and saw a need to play with them. I always wondered why people thought girls should play with dolls.

• French Polynesia
10 Dec
@yugocean
You are so right. I hve no idea how all that started, but I wasn't one of them who played with them.


• Green Bay, Wisconsin
10 Dec
I'm sorry your mother got rid of your collection of troll dolls and gumby and pokey too. I had a small collection of things important to me in a shoebox under my bed. My mother got rid of my shoebox. I didn't even know she knew about it. It was a terrible loss for me. As for toys, my favorite were paperdolls and viewmaster. Now, I collect paper dolls, even though I don't play with them. They aren't as prevalent as they were when I was a kid, which is sad. Viewmaster, to my knowledge, no longer exists either. Sometimes, it's hard growing up. So many things change.

• French Polynesia
10 Dec
I had one of the viewmaster too. I know that I had a ton of disk for that. I think when I left my mom gave that to my younger brothers for them to play with. I also remember the paper dolls and how you had them and dressed them up. A friend in America that I use to play with from time to time she was into paper dolls. I didn't like them or even her Barbie dolls and I never would play with her when she wanted to play with them.

• Green Bay, Wisconsin
10 Dec
@poehere
I had a lot of viewmaster disks. Once in a while I would play paperdolls with a friend who lived a block from me.

• French Polynesia
11 Dec
@just4him
The only thing I wanted to do was go skating and play baseball or roller skate hockey with my brothers.


• Canada
10 Dec
Hula hoops. They've come and gone. I was the hula hoop queen from age about 8 until 13. I found one when I was about 25 and I still could hula hoop.

• French Polynesia
10 Dec
I remember them. I think I bought one for my granddaughter at the dollar tree one year. They weren't the same as the ones I remembered and it seemed like they were so much harder to use. I remember the ones that some friends had in the US had some sort of beads in them and they made a noise when they went around. I loved my jacks and I loved to play with them. I did see on one site for vintage toys they had a set of them and they were selling them for $45. Wow now that is a lot for a set of 25 metal jacks.

• Canada
10 Dec
@poehere
I hi K the old hula hoops had a little more weight to them than the flimsy things they sell now at the dollar store.

• French Polynesia
11 Dec
@Morleyhunt
I think you are right on that one and the new ones bend and break so easily.

• Philippines
10 Dec
They said Christmas is for children. What about adults? Toys are for the kids. What about the adults? If you buy toys for collection and to refresh your childhood days, why not? I know one doctors, our family doctor. He has a lot collection of toys from McDo's. He is already adult. He is not a child anymore.

• French Polynesia
10 Dec
He actually orders the Happy Meal to get a new toy. Now that one is funny. Hopefully, he has a small child that he orders it for and the child gives him the toy. I don't visit McDo's at all. I know when the grandchildren were young they loved to go there to play on the toys and toe at a Happy Meal. I'd take them now and then and let them play and eat there. I didn't like the food and would pass on that one.

• Uzbekistan
10 Dec
I had a favourite doll as a child. When I had to go to the hospital because I had scarlet fever, my mother let me take the doll with me for comfort. When I could return home, I couldn't take the doll with me. It was burnt so that no germs would leave the hospital. I was so sad.

• French Polynesia
10 Dec
It is sad when you lose one of your toys that you loved so much. Mine was my skates and I had to have my roller skates and my baseball and bat. That was what I played with the most. My older brother would go out in the street and put up a hockey net. We had hockey sticks and a puck and would play for hours on end using our roller skates. When I was young I mostly played roller skate hockey, roller skated, and played baseball in the front yard. I ws not into dolls like my sister and she would stay in the house playing with her dolls and I think she got an easy bake oven one year for Christmas or it was some sort of cotton candy machine.

•
31 Dec
When I came to live in Israel I went back to bring things and wanted some pictures and my parent's house was not in good shape so they were destroyed and I was very sad. I do remember troll dolls. I think I even had one. I know how disappointed you must have been with that crummy shoe box with not the toys or dolls you wanted. Did they say what happened to the troll dolls?