Custard With Fruits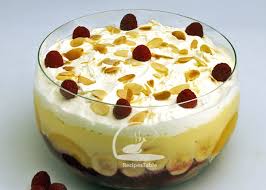 India
December 10, 2017 7:23am CST
My mom prepares delicious custard on weekends,when the whole family is at home. It is really very delicious. I have two cups of custard. It is really mind- blowing. My sister also loves it. I like plain custard also. It is really a perfect dessert to enjoyed in summers. When I go home my mom makes it for me and I enjoy it. Do you enjoy custard with fruits in summer?
8 responses

• Mumbai, India
11 Dec
I Love Fruit Custard. It is my all time favorite dessert

• Malaysia
10 Dec
i love custard but don't know how to make them, you have the recipe?

• Kenya
10 Dec
Its not common here so I cannot say whether I would enjoy it or not

• Malaysia
12 Dec
I like custard, I usually use it when I make trifle pudding. Plain custard pudding is nice too.

• Derby, England
11 Dec
That looks like what we in the UK call trifle. Jelly, fruit and custard with cream on top