No, I Don't Have Eyes in the Back of My Car!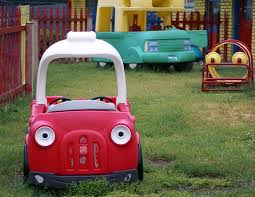 Saco, Maine
December 11, 2017 3:51pm CST
Which is why I don't always see someone walking by behind my car when I am trying to back out of a parking space. As all drivers know, most vehicles have a blind spot somewhere between the midsection and the trunk or rear. Sometimes it's a section of the car's roof support. Other times, it's just the way the vehicle is angled so that anyone approaching from the back is not visible in a direct line of vision. Side mirrors aren't always useful either, for that reason. It happened to me again today when I was leaving the grocery store parking lot. I got my car about 1/4 of the way out of the space, and suddenly, there was a woman walking quickly by, not bothering to stop. I guess she figured it was up to ME to see HER. Assuming she drives a car, she should know the rules that govern that. The bottom line is that the person walking by has a much clearer view of what's going on than the driver of the car, thus has more control over the situation. I try to back into a parking space whenever I can. But there again, when I do that, someone always walks by behind me, looking at me like, "Hey, what're you trying to do, run over me? Can't you see I'm going by here?" When I cross a parking lot on foot, I always try to be on the lookout for cars backing out. It's a safe bet that I see the driver before he or she sees me. OK, that's my gripe for today. I'm sure something else will annoy me tomorrow!

(Public Domain Image)
6 responses


• Saco, Maine
11 Dec
That's right. A cop told me once that a driver should be more worried about what's in front of him than what's behind him. That's up to the person behind you, he said. Made sense to me.

• United States
11 Dec
do you have a back up camera there?I will try not to annoy you tomorrow.lol

• Saco, Maine
11 Dec
No, my car's a 2004, Fredo. No such thing. OK. But I doubt you could ever annoy me, neighbor!

• United States
11 Dec
My car has a backup camera, and even that piece of technology is not foolproof. One still has to look to the left, to the right, and over the shoulder to avoid hitting someone. I will say I no longer hit the garbage can due to using the backup camera, but a garbage can is stationary.

• Saco, Maine
11 Dec
I know people who have those cameras and don't find them that useful. Nothing beats being careful, but it's much harder to see a person walking by behind you than it is for them to see you first.

• Bunbury, Australia
12 Dec
I know what you're saying. Even pulling out onto our road, there is a blind spot from the roof support. If we're both in the car we're both looking back and forth making sure we don't miss an oncoming car. (Miss seeing it not miss hitting it!)


• Saco, Maine
12 Dec
Or in some instances, an intersection is so sharp and not at a right angle so that you have to sprain your neck looking. I must look stupid at such times, as my head goes back and forth so fast...I don't trust my instincts some days, so I overcompensate with a lot of neck rotations.

• Bunbury, Australia
12 Dec
@Raelove
This was a bit of a problem in France because the steering wheel was on the 'wrong' side. To turn right Vince had to trust me to tell him when it was safe to go.

• Saco, Maine
12 Dec
@JudyEv
I'm one of those drivers who doesn't trust the passenger. I'd rather be overly cautious than not.


• Philippines
12 Dec
There is this one time, I was browsing youtube. I saw an accident that a woman was run over by a van's driver. I am not sure whose fault it is. The woman was texting and not seeing the van moving backward and the same thing with the driver, he didn't see the woman at the rear side. It is a scary accident.

• Saco, Maine
12 Dec
All accidents are scary. Everyone, whether on foot or driving, should always be as vigilant as possible.

• Saco, Maine
12 Dec
@Shavkat
It's much easier to blame the person driving the car.


• Philippines
12 Dec
Most people don't know road rules and such. When they get run over, they immediately blame the driver.

• Saco, Maine
12 Dec
That's right. I've lost count of all the people I've seen walking the wrong way on a road. In the U.S., we are to walk FACING the traffic, not with it. That way, WE can see oncoming cars before they see us.

• Philippines
13 Dec
@Raelove
I do that as well when walking or jogging/running in the morning/evening. Walk towards the traffic so both you and the driver of the vehicle see each other.