Free Ride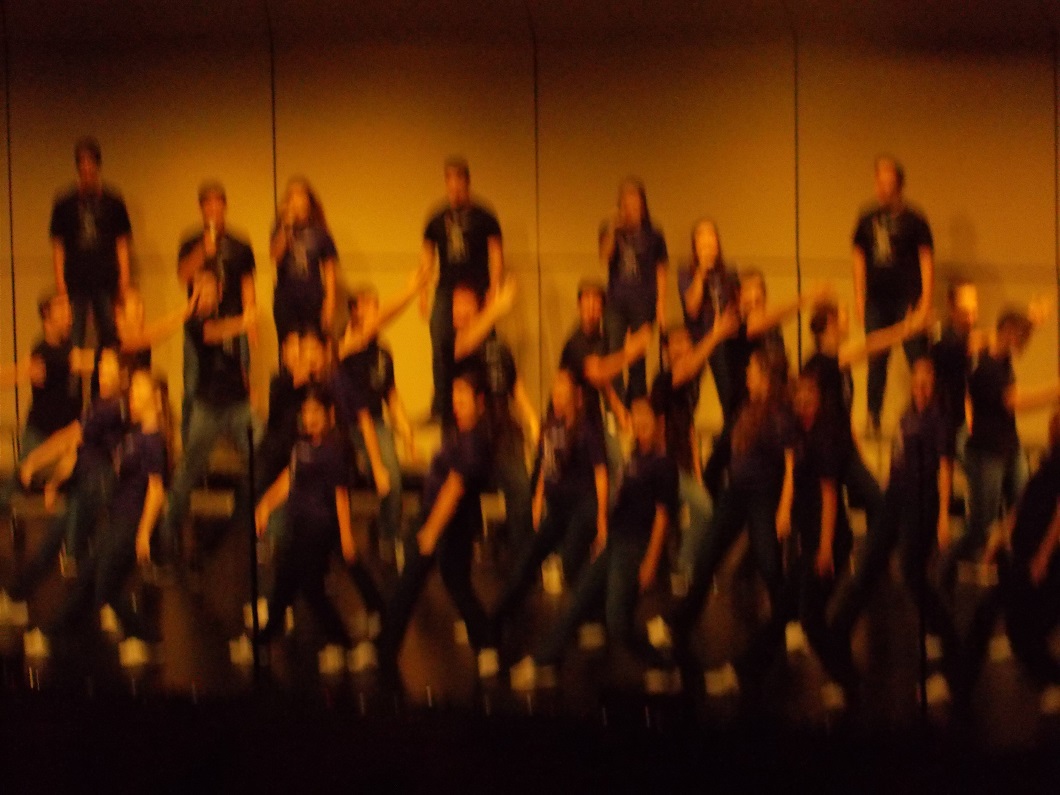 United States
December 11, 2017 5:52pm CST
Last Friday, December 8, the fourth and fifth grade students from our school boarded a bus to go to our district's Performing Arts Center. We were privileged to see a half hour program performed by the students from Butler Community College in ElDorado, Ks. A show choir known as the Headliners. These students pictured are in jeans and T shirts and did not do costume changes Friday, as they were performing in four different venues. Usually they change costumes with every set. One thing that is interesting to me is that all the students in this group are attending college on a free ride scholarship. All expenses paid. Their costumes, even their shoes are paid as well. They sing great harmonies, both old and new music. The songs are also choreographed. These students could have left campus for home on Wednesday afternoon. Because of their spirited showmanship the stayed around til Friday, to perform for free at various districts in the area. The week before they had performed with the Wichita City Symphony. It was a good show and they work very hard.
10 responses

• El Paso, Texas
12 Dec 17
Lucky you. I doubt they ever get out this far.

• United States
12 Dec 17
You may find some community college nearby that does perform near you. Check school calendars and such. I went to a college that had fall and spring tours and came to churches in Texas.

• Moses Lake, Washington
12 Dec 17
That sounds like a lot of fun. I love that these kids are doing something very positive and are impacting other kids doing it.

• United States
12 Dec 17
The entire Jr. Hi and Hi School was there as well as lots of adults from the community. We had to sit up in the upper levels for space reasons.

• United States
12 Dec 17
Oh wow. Sounds like they're good, and they enjoy what they do.

• United States
12 Dec 17
They were full of energy and yes, very good singers and dancers.

• United States
12 Dec 17
cool. My uncle's high school has a choir called The Choraliers. They are really good.

• United States
13 Dec 17
It is awesome to see these young people enjoying working hard and learning about music.

• Aberdeen, North Carolina
12 Dec 17
Ah that sounds like fun. I love a good performance

• United States
12 Dec 17
It was fun. I would love to see them sometime with all the costume changes. these young people have marvelous voices.

• Bunbury, Australia
12 Dec 17
It must sometimes get very tiring for them. Glad you enjoyed it.

• United States
12 Dec 17
Their faces said that they love what they are doing. I know that this is almost like a job for them and it also is good on a resume if they want to go into entertainment.

• New Delhi, India
12 Dec 17

• United States
12 Dec 17
Yes, and it lets the younger kids see what can happen if they practice hard with their talents.

• United States
12 Dec 17
It was. I think one reason our district was chosen is that we have a very well designed performing arts center and groups love to use our stage.

• Green Bay, Wisconsin
12 Dec 17
I hope your students appreciated the performance as much as you did. Sounds like you had a fun day.