Update: 4 Month old Baby Girl Fighting for Life After Mom Grievously Assaulted Her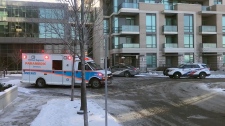 December 13, 2017 5:55pm CST
Mother charged today with attempted murder, 2 charges of uttering death threats ,and one count each of assault with a weapon causing bodily harm , and assault with a weapon .. hopefully justice will be done...and I'm not saying what I think should happen here..... ------------------------------------------------------------------------------------------ This is a 5 minute drive from my home in Etobicoke In a High End Condo, it was first reported a mother stabbed her baby girl and her husband . It was later changed to " the girl had critical injuries after police say she was "grievously assaulted" during an incident involving a man and a woman" This assault wounds must be horrid if the police initially thought the baby was stabbed several times ...they are not elaborating at this point. So here is my point . I can sort of understand that domestic violence happens and husbands and wives fight , and maybe even assault one another. But a freakin BABY .... For god's sake , don't involve a child in this mess ....and dare I say , if it's that bad you can't handle your life and might do harm leave the child in a warm church rather than have it come to this. I'm sure some of you will disagree , but god this is just an awful situation and this should never, ever happen. thoughts??
10 responses

• Canada
14 Dec
Breaks my heart. I hope that littele girl will be okay. Our laws in Canada are not strick enough so she wont get what she deserves.

• Canada
14 Dec
@Luap1050
i guess we will have to wait and see what happens


• Portugal
14 Dec
I agree with you, poor little girl, she has no fault of having stupid parents.


• Bunbury, Australia
14 Dec
That is so sad. I agree with you all the way. It's awful that children are involved in this way.

• East Tawas, Michigan
14 Dec
It's a crime when domestic violence occurs between a man and a woman. But for a child to be brutally injured? That's insanity at its height! Those people should never be allowed to even look at that baby, ever again!


• East Tawas, Michigan
14 Dec
@Luap1050
That is heart breaking, for a four month old to suffer being assaulted!:(

• Waikoloa, Hawaii
26 Dec
sad do the mom get imprisoned?


• Jacksonville, Florida
14 Dec
That poor baby! I cannot understand something like this either, it is pure evil. =(

•
19 Dec
The poor baby! Some kids are just so unfortunate to be born in those awful environments!