Gratitude Challenge Day #951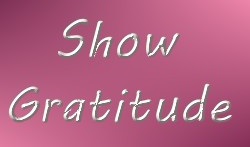 United States
December 13, 2017 11:50pm CST
Hey there, everyone. I'm actually getting ready to call it a night, but I wanted to post the Gratitude Challenge first, since it's been a while. It's my gratitude list for Wednesday, December 13th….. 1. I went out with a friend today. We hit up Starbucks, exchanged Christmas cards and went to a few stores. I also got a new stocking at the thrift store for $2, and it's pink. :) 2. I was home alone for a while today, which doesn't happen often. I watched some television and worked on my writing orders. 3. I finally watched the 30-minute "NKOTB Unwrapped" documentary online, and then I watched The Santa Clause 3: The Escape Clause. Hey, I had to complete the trilogy this week lol. 4. I had a good writing day. I worked with several clients on two different websites, so it was nice to have a little variety. 5. I'm tired, so I'm grateful that it's bedtime for me lol. Alrighty, I just finished my last order for the day. I wanna get this posted and catch some Zzz's because I am tired. G'night (or good morning), everyone. And take care. Photo Credit: I made this graphic using PhotoImpact 6.
5 responses




• Green Bay, Wisconsin
18 Dec
You had a good Wednesday. I know you totally enjoyed NKOTB Unwrapped. I agree - you had to complete the trilogy. I noticed they have the Santa Clause trilogy on Netflix now. I'm glad you had a good writing day. I hope you also had a good night's sleep.

• United States
18 Dec
Oh I did. Donnie Wahlberg's teenage son and his friends made the documentary during their last tour, so it was cool to see them acting like goofballs backstage (which they also do on stage too haha). Yep, I'm glad I was able to complete them back-to-back (welp, within 3 days, not all in one day). Aw thanks. I think this could be a good writing week too. I don't remember how I slept tho lol.

• Green Bay, Wisconsin
18 Dec
@tammys85
It's always fun to watch your favorite people act normal. I'm glad it's going to be a good writing week for you. It's a good way to end the year.


• United States
14 Dec
Glad it was a great day for you.! Yay for hanging with friends!