Cats or Dogs?

Italy
10 responses

• France
27 Nov 06
I'm definately more of a cat person. I like dogs if they are working dogs and you have a lifestyle to suit them, but I think many people have dogs that cannot give them enough excercise or handle them properly. Cats slow me down, they halp make sure I sit still for long enough to get onto Mylot!

• Brazil
29 Nov 06
You're right. Dogs require a lot more care that cats do. It's amazing how dogs are loyal.

• United States
8 Mar 07
I'm a dog person. I have 3 and then I babysit a friends dog every day too while he works, so I have 4 dogs running around my house and I love them all to bits. I'm not much for cats as they seem to have too much "attitude" for me.

• Italy
25 Jan 07
I prefer dogs. I have a dog, it's called Luna and it's a siberian husky

• United Arab Emirates
4 Dec 06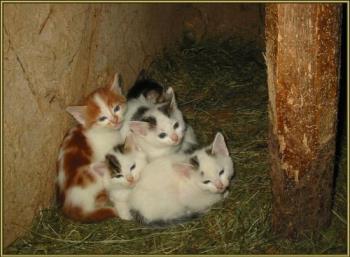 cats i love cats and specily kittens!i love them but unfortunetly my mom doesnt like cats! but hopefully once i have my own home i will make sure i buy cute little kittens!


• India
27 Nov 06
both ..infact i like all the animals except the creepy ones..yuck..