I Get to Keep Listening to the Music

United States
December 20, 2017 8:45pm CST
What is the worst thing that can happen to a music lover? Of course: hearing problems. A couple of months ago I thought that's what I was facing. I went to the audiology clinic and the ENT clinic at the VA for a weird "phantom" noise in my ear. That turned out to be tinnitus (it's speculated that Van Gogh had either that or Ménière's disease, causing him to cut his ear off [if he heard the constant, loud weather radio tone I've heard a few times, I can't say I'd blame him!!]). The follow-up appointment was today. There
is
hearing loss, but nothing out of the ordinary. The doctor classified it as "mild" and "age-related" (in other words, a lot of people in their late 50s hear about the same way I do). Tubes won't help the tinnitus, given that there's nothing structurally wrong with my ears (that's always a good sign!), so they're going to try hearing aids. Say
what?

(Yes, I said that to my doctor, and apologized immediately: "I'm sorry, I know you hear that 20,000 times a day.") I have an audiology appointment next month where we go through the process of getting hearing aids. It may not work, but I don't have anything to lose....except the ringing in my ear.

Best of all, I can keep on listening to the music!!!!! Thank God!!

Their first big hit from 1972. LYRICS: Don't you feel it growin', day by day People gettin' ready for the news Some are happy, some are sad Oh, we got to let...
10 responses

• Los Angeles, California
21 Dec 17

• United States
21 Dec 17
I hope that works out well for you, and you can still hear the music.

• Denver, Colorado
21 Dec 17
I have no middle range in my hearing, which they discovered during my physical before I left to basic. I blame loud music!

• Dallas, Texas
21 Dec 17
I hope that helps. I have Tinnitus. It sounds like several distant locusts chiming close by. It is constant, 24/7 and the only way for me to sleep is to have a fan running at night. Hope you find a way to get rid of your ringing in your ears. Meantime, play the music, but don't blast it like I sometimes do.


• St. Catharines, Ontario
21 Dec 17
First off, Vincent didn't cut his ear off. He severed part of his left ear with a razor in a rage after a confrontation with Gaugin. I've had tinnitis for 50 years and have never thought to cut off my ears. Let me know if the hearing aids have any effect against it.

•
21 Dec 17
Glad there is nothing seriously wrong with your hearing. Peter Townshend always comes to mind when I think of musicians with hearing loss. I know it was a big issue during his career and he even considered not touring (our loss). Anyway, good there are no "Tommy can you hear me" issues going on with you. I have hearing loss also, but not to the hearing aid point, although I'm sure my friends would disagree



• Oklahoma City, Oklahoma
2 Aug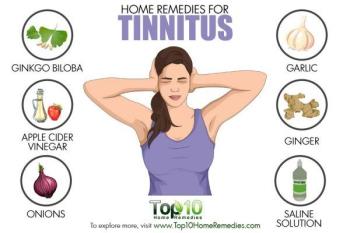 I have it too. What I think it is: blood rushing through the veins in my inner ears. Meaning the way to 'get rid of it' is to make your blood run more-quietly ... by eating foods that digest to smaller particles for your blood to carry---some are shown in the picture.

• United States
25 Dec 17
yup.my left ear doesn't work anymore..it's a hereditary thing in my case. i was telling my husband i should get dj headphones from now on 'cause i only need one..