Please Tell Me That Is Not An Exhaust Leak I'm Hearing!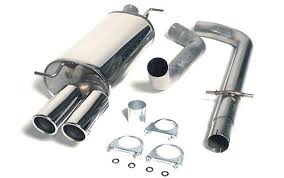 Saco, Maine
December 21, 2017 2:44pm CST
But yes it was, and it was in the same spot where the exhaust leaked two years ago. Back then, I went to a garage that a couple of friends recommended. Where another shop had given me a huge estimate on the repair, this garage was able to do it for much less. I knew it wasn't a permanent fix, but I got my money's worth out of it. Today, they had to fix another bad spot in the system, too, so this cost a bit more but not nearly as much as I'd expected. When the mechanic showed me what needed to be done, he pointed out how intricate the entire exhaust system on my car is. It's in two basic sections: the section off the engine manifold that is comprised of not one, not two, but three catalytic converters, and a section of pipe that runs to about halfway the length of the car. The remaining system ends a few feet away in the muffler and the tailpipe, and that's where the main leak was. The other problem involved two flanges that connected the two main sections of pipe together. They solved it by cutting both bad sections out and refitting the system with new pipe that they welded on. When I came home, I researched the prices of these exhaust parts, and I was in shock. Had I needed to replace them, it would have cost me nearly $2,000! Needless to say, I was happy that the whole job cost me just 1/10th of that! Owning a car is a big burden, and more so when you're on a fixed income. Which is why, whenever I hear the least little noise, I go crazy wondering what it is and what it's going to cost to fix it. While they had my car on the lift, I asked them to check to see if anything else looked bad, and they did find a couple of things. But those can wait till January, as that's when my inspection sticker is due. And once again, I'll stress out wondering what else they might find that needs fixing! (Public Domain Image)
7 responses

• United States
21 Dec
I freak out if anything is amiss with my car. Just the whole idea of taking it in for repair and paying for that prepare has me in a panic. So glad you have a good place to take your card for repair. We stumbled upon a garage, Korean owners, who will go to great lengths to save us money, but I still panic.

• Saco, Maine
21 Dec
I do, too. There is so far they can go to keep it cheap without compromising safety. There will someday come a time when I won't be able to keep this car up anymore. I hope that's not soon, though.

• United States
21 Dec


• Daytona Beach, Florida
21 Dec
For reasons like this and due to the expense I have no car and rely on my own two feet. I work at home and I really don't have anywhere to go except the store and I can get there on foot.

• Saco, Maine
21 Dec
I am too far from most things here, and taking cabs and buses is not my thing. Though I'm sure I'll have to someday...

• Canada
21 Dec

• Boise, Idaho
22 Dec
It sure is a burden. I went to drive my car after not driving it all winter, about two years now, and could feel a problem with it. I decided then and there not to drive anymore. I couldn't handle the repairs and upkeep any longer. Glad I did because it was soon after that that I learned I had a cataract.

• Saco, Maine
22 Dec
I know that will happen to me someday, probably sooner than later. Here, I'd have to depend on buses, which are a half mile away to the nearest stop or taxi cabs, which are awful and expensive. The thought of no longer getting myself around terrifies me more than anything else. I've been driving for 47 years, and it's been my greatest freedom. I'm not ready to give it up yet, so I'll keep going as long as I can, God willing.

• Boise, Idaho
23 Dec
@Raelove
......Terrifies me. Taxis are awful but I find one I like and ask them for their card. THen when I call in for one I ask for the number taxi on their card.

• Saco, Maine
23 Dec
@celticeagle
Oh, our taxis here are awful. They're junks, they're dirty, and the drivers are, to put nicely, not the creme de la creme. I dread the day I have to start taking one.


• United States
22 Dec
I so love not having a car..I am sorry now that there is more to repair for you.

• Saco, Maine
22 Dec
If I lived closer to certain things, I'd get rid of mine. But I'm not quite ready yet, as I'd have a hard time going where I like to go. I love going to sit in my car near the ocean or the river. I wouldn't be able to do that without a car, and I'd be miserable!

• United States
23 Dec
@Raelove
Yes you would be, oh no , you must be able to get to the sea, I understand it Rachel.


• Saco, Maine
23 Dec

• Bunbury, Australia
21 Dec
Car repairs can cost the earth can't they? It's always good to have a little stash somewhere that you can draw on for these unexpected expenses. But, as you say, on a fixed income it can be hard. It's so good to have a garage you trust. We have a great one too. He won't do stuff just for the sake of it and often comes up with innovative ideas to do a cheaper fix.

• Saco, Maine
21 Dec
These guys are like that, too. Another garage might have told me to go ahead and buy those expensive parts. This bunch figured out a way around it. And by the way, that WAS my little stash for this time around! Now I have to start "stashing" again!

• Bunbury, Australia
21 Dec
@Raelove
Another little rant about young(er) people - they never seem to think they might need a 'stash' at some time in the future. We've had so many here making really good money on the mines so they get a really great house (with a big mortgage but they can afford the repayments), then they buy a boat and a motor-bike, start eating out every week. Then the mining world collapses and they have nothing to fall back on or tide them over. It could be so different if they had just put a little aside each payday.

• Saco, Maine
22 Dec
@JudyEv
That's right. And it's not just young people who live like this. I know some my age who do as well, and I've never understood it. I grew up poor, and I learned how to make a dollar do the work of ten. I made things last and took care of what I knew I could not replace. In today's disposable culture, that is a lost art.

• United States
21 Dec
we just had to spend money on a new stove.

• United States
21 Dec
@Raelove
yes.Guess they call this living.



• Saco, Maine
21 Dec
No, it sure isn't. And I was happy that I hadn't spent too much on Christmas this year. There goes that.