Christmas is almost here!! But, it's not the only holiday.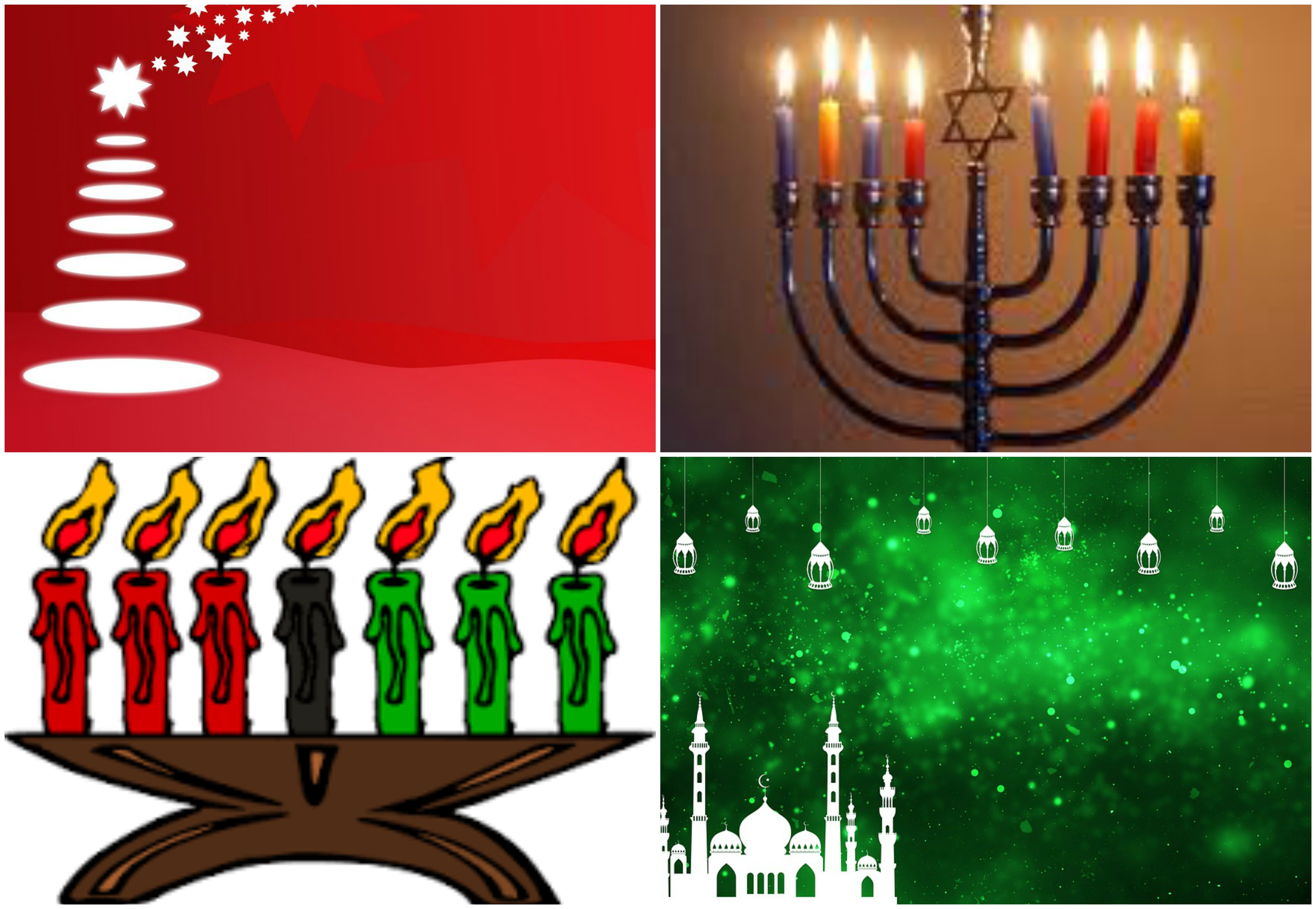 Gloucester City, New Jersey
December 23, 2017 3:22pm CST
In the United States (and most other European-related countries), Christmas is a time of gift-giving and celebration. For Christians, it is a time to remember the birth of Christ. We all know it is not the actual day of his birth, but it is believed that being thankful for His arrival is important. Non-Christians have joined in for the celebratory portion of the day to share with others, join with family, have large family meals and simply enjoy the day frequently visiting family and friends. This time of year is also the season for Hanukkah, a celebration of the miracle of the oil lamps that stayed lit for eight days without oil. At least in my area of the country, it is celebrated in a similar manner to Christmas but covering a longer period as one candle of the menorah is lit each day of Hanukkah. Some have welcomed the secular Christmas celebration into their homes as well, so they have a lengthy time of celebration, food, family and holiday decor. (I know my explanation may be overly simplistic, but remember, I am an outsider to this particular event.) My first knowledge of Ramadan was during the Christmas season. It is a period of fasting and prayer followed by a celebratory meal when the period is over. Islam is not the only religion that uses fasting as a means to draw closer to God, but they do seem to be one of the few that sets aside a specific time for it. Ramadan is not always during this time of year, but I mention it because that was when I first became aware of it. Islam's holiday with gift giving, though, is Eid. I don't know enough about it to know more than that. There is the recently created holiday of Kwanzaa also at this time of year. A candelabra not unlike a menorah is lit daily as seven principles of life are emphasized. Again, I am not fully aware of whether this holiday celebration is shared with Christmas or they cannot be celebrated jointly. These seven principles are worthy principles for any and all and deserving of honor. But, not all people in the world follow these holidays, so if you are not a follower of any of these, do you have a celebration that you follow during this time of year (or a similar type of celebration but at another time of year?) I'd be interested in learning about your annual holidays and celebrations.
10 responses

• Roseburg, Oregon
23 Dec
I celebrate Christmas and can hardly wait for Santa to come. I have been good . (sort of).

• United States
23 Dec
I celebrate Christmas and yes, I can hardly wait for Christmas day.

• United States
24 Dec
@jerzgirl
It isn't the amount it is who we are with and the love we feel, that is priceless.

• Gloucester City, New Jersey
24 Dec

• United States
24 Dec
I am Christian, live in the US. I celebrate Christmas. My favorite part is the music. When I taught in a pre school that was government funded we had to learn about multi cultural holidays and teach the kids. We had some Hanukah recipes and a Jewish lady came and the kids got to help make latkes. I never have known anyone who celebrated Kwanzaa but we made and talked about a Ketorah, (I think that was the candle stick) and the seven principals and the colors of the Motherland of Africa. Other holidays we talked about were Diwali and Chinese New Year. I also know people who are Pagan who celebrate Yule. One thing to remember or recognize is that all these celebrations involve bringing light when the world is dark. I do not know about Eid and have heard very little about Ramadan.

• Gloucester City, New Jersey
24 Dec
I love that they taught all of that. Things like that can be taught without it being "religious" teaching, per se. It is also cultural and we should all understand the world in some way. I don't know what Eid is about, either, but my Islamic neighbor told me that Eid is the holiday where they give gifts. We were talking about Christmas when I asked if they had a similar holiday. Diwali, the festival of lights - I don't know its purpose, but it is so vibrant and colorful!

•
25 Dec
Heather, that is nice that you learned about different cultures.


• United States
24 Dec
Merry Christmas. I celebrate Christmas. I'm also Catholic so I do celebrate thru the three kings day. I have friends/family that celebrate Christmas and Hanukkah. Or Christmas and Yule . It depends on personal belief. A lot of "Christmas" is commercial and not religious in nature.

• Gloucester City, New Jersey
24 Dec
So, you celebrate for eight days? (I'm guessing about when the kings arrived.) My landlords are Catholic and I hang with their sons who have never mentioned Three Kings Day. They talk about Assumption and the May Crowning, but very little about Christmas. Neither son cares much for Christmas. Kind of dysfunctional family.

• United States
24 Dec
@jerzgirl
its actually 12 ( think 12 days of Christmas song). So birth of Christ on "December 25".... And the revelation of him Jan 6.. So yes, you are right about guessing its about their arrival! 3 kings day is also known as the Epiphany. It has a few other names too!

•
25 Dec
Are your family Jewish that celebrate Hannuka or what?



• Gloucester City, New Jersey
24 Dec
I was trying to avoid a religious designation of countries, but mainly I was referring to colonial regions in the world where Europeans had claimed possession at one time. Many traditions continue that began during those days. French, Dutch, British, Spanish. Not sure if there were any Germanic colonies, but what there were frequently continued many of the cultural celebrations brought to them.

• Uzbekistan
24 Dec
@jerzgirl
From Wikipedia: "The German colonial empire constituted the overseas colonies, dependencies and territories of Imperial Germany. Short-lived attempts of colonization by individual German states had occurred in preceding centuries, but crucial colonial efforts only began in 1884 with the Scramble for Africa. Claiming much of the left-over colonies that were yet unclaimed in the Scramble of Africa, Germany managed to build the third largest colonial empire after the British and the French ones. Germany lost control when World War I began in 1914 and its colonies were seized by its enemies in the first weeks of the war. However some military units held out for a while longer: German South West Africa surrendered in 1915, Kamerun in 1916 and German East Africa only in 1918 at the end of the war. Germany's colonial empire was officially confiscated with the Treaty of Versailles after Germany's defeat in the war and the various units became League of Nations mandates under the supervision (but not ownership) of one of the victorious powers."

•
24 Dec
I would like to correct you on Hannuka. I am Jewish. I celebrate Hannuka only. This year it started on Tuesday night the 12 of December and the last light of our Hannukia was on the 19th and the last day was the 20th. A Menorah has 7 lights and the 8th is the main candle. We light a Hannukia which is 8 lights and the 9th is the one we use to light each candle. The holiday is called the Festival of lights and not lamps. You were right that the oil lasted 8 days instead of one day. That is why we celebrate the holiday for 8 days.

• Gloucester City, New Jersey
24 Dec
I thought it was the Festival of Lights, but then remembered that Hindus also have one by that name, so I thought I was wrong. I mentioned the lamps because I knew about the lamps and the oil lasting for eight days. But, I didn't want the actual festival name to be wrong, so I didn't mention what I thought it was.

•
25 Dec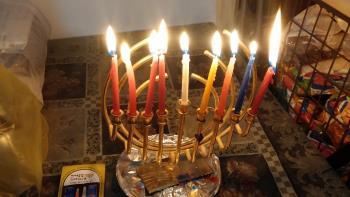 @jerzgirl
Wendy, it is the Festival of lights and not lamps. I am going to put my Hannukia here to show you what we light. This is mine. There are many others and some have oil ones.

• United States
24 Dec
I am Christian, but I grew up next to a Jewish family as a child. Hanukkah, like Easter, depends on things like the moon after the Jewish New Year, which is, I think, in September. It was to celebrate that the lamp burned for 8 days when there was only enough oil for one day. Now, Catholics, and even more so Orthodox Christians, have seasons of fasting and prayer. The Roman Catholics have Advent and Lent, the Orthodox have those plus the Apostles fast in the summer.


• Gloucester City, New Jersey
24 Dec
Yum, turkey! Pavo. What do you eat with it? I have a llama rug from Peru that my mother got while we lived in Venezuela years ago. It's so wonderfully soft. She used it as a bed cover because she didn't think it should ever be walked on. It's packed away in a cedar chest right now.