I'll Miss You Most of All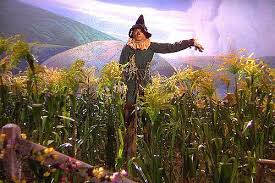 Saco, Maine
December 24, 2017 7:48am CST
Anyone who has seen the 1939 film "The Wizard of Oz" might remember this line, which is one of my favorties. It is spoken by Dorothy as she prepares to join the Wizard in his hot air balloon on her journey back to Kansas. As she bids farewell to her three companions-the Scarecrow, the Tin Man, and the Cowardly Lion, she lingers on her gesture to the Scarecrow and says softly "I think I'll miss you most of all." I have always been touched by that line, as it illustrates their friendship forged when the two decided to hit the Yellow Brick Road together in search of the Emerald City. It's obvious that a special bond develops immediately between the two. But despite having seen the movie dozens of times myself, I realized as I watched it recently that I'd missed one particular action performed by Dorothy as she and the Scarecrow made their way to Oz. Played by the very talented dancer Ray Bolger, the Scarecrow's character is not steady on his feet, so he stumbles often as they go along. I had never noticed how, in the distant shots, you can see Dorothy pulling him to his feet by yanking up on the back of his overalls. It was yet another example of how helpful they would prove to be to each other until the story's end. That's why I enjoy watching certain movies over and over again. I often miss something important the first and second times around, or something jumps out at me that I didn't notice because I was focused on the scene, the acting, the background, or the emotion generated by the story. Noticing, after all these years, how Dorothy helps the Scarecrow get to Oz in a more personal and direct way adds new layers of meaning to a story that celebrates friendship, companionship, and cooperation in a very charming way, one that I never tire of. (Public Domain Image)
9 responses

• United States
24 Dec
This is one of my fav films if not the fav of my childhood too. Yes it is amazing what one can pick up on by watching a film more than once, in fact, many times for this one. Yes Dorothy and the scarecrow were very close I recall. Hope you have a peaceful Christmas eve and Christmas Rachel xo


• United States
24 Dec

• United States
24 Dec
This is my all time favorites.My girls loved this movie.

• Saco, Maine
24 Dec
It's one of mine, too, Fredo. I still like watching it now.

• United States
24 Dec

• United Kingdom
26 Dec
It is funny how certain films play such an important part in our lives. My favourite I must admit is the sound of music. I never tire of it. One film that even to this day gives me the shivers is Zulu. I went with my father to see the film. I must have been around 7-8. It frightened the life of me and to this day it makes the hair on the back of my neck stand on end. Quite terrifying.,

• Saco, Maine
26 Dec
I saw TSOM many years ago and wasn't all that moved by it. I'm not a big fan of musicals to begin with, but the storyline and magical scenery in the TWOO are what do it for me. I can't say that I've ever seen "Zulu," so I'll have to research that one. I also don't scare easily when it comes to films, and I can't think of one that scared me as a child and that still does. I guess I'm quite jaded where movies are concerned!

• United States
24 Dec
@Raelove
It's a very special movie! I believe that the Scarecrow (who represents an Uncle if I'm not mistaken) Also represents that other special relationship.

• Saco, Maine
24 Dec
All three characters represent the farm hands who work for Dorothy's Aunt and Uncle. This is why she says at one point that she feels as if she knows them from somewhere. It's a wonderul movie.

• United States
24 Dec
Haven't watched it in years. We were just talking about it as I don't remember 4 witches in the movie, only 2. I do remember the flying monkeys though.

• Saco, Maine
24 Dec
I remember 3 witches: the one that got killed under the house; her sister, the Wicked Witch of the West; and Glenda, the Good Witch of the North.

• Los Angeles, California
24 Dec
You should visit the Wizard of Oz Museum in Kansas some day.

• Saco, Maine
24 Dec
If I ever get down that way, I will.


• Saco, Maine
24 Dec
Same here. This is definitely one of them. It never gets old.

• Chile
24 Dec
Good movies can be seen many times and you always find something special that you had missed.

• Saco, Maine
24 Dec
Yes, as was the case here. I'm glad I caught that.

• Gainesville, Florida
26 Dec
This is a movie I never get tired of watching over and over and over again, year after year. Such a great classic! And it never fails that I always seem to pick up something new about the movie each and every time I watch it.