Daily Bible Study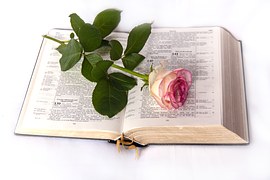 Green Bay, Wisconsin
December 28, 2017 5:55am CST
Day 9 Ezekiel 9 Ezekiel 9:1 He cried also in mine ears with a loud voice, saying, Cause them that have charge over the city to draw near, even every man with his destroying weapon in his hand. 2 And, behold, six men came from the way of the higher gate, which lies toward the north, and every man a slaughter weapon in his hand; and one man among them was clothed with linen, with a writer's inkhorn by his side: and they went in, and stood beside the brazen altar. 3 And the glory of the God of Israel was gone up from the cherub, whereupon he was, to the threshold of the house. And he called to the man clothed with linen, which had the writer's inkhorn by his side; 4 And the LORD said unto him, Go through the midst of the city, through the midst of Jerusalem, and set a mark upon the foreheads of the men that sigh and that cry for all the abominations that be done in the midst thereof. 5 And to the others he said in mine hearing, Go ye after him through the city, and smite: let not your eye spare, neither have ye pity: 6 Slay utterly old and young, both maids, and little children, and women: but come not near any man upon whom is the mark; and begin at my sanctuary. Then they began at the ancient men which were before the house. 7 And he said unto them, Defile the house, and fill the courts with the slain: go ye forth. And they went forth, and slew in the city. 8 And it came to pass, while they were slaying them, and I was left, that I fell upon my face, and cried, and said, Ah Lord GOD! Wilt thou destroy all the residue of Israel in thy pouring out of thy fury upon Jerusalem? 9 Then said he unto me, The iniquity of the house of Israel and Judah is exceeding great, and the land is full of blood, and the city full of perverseness: for they say, The LORD hath forsaken the earth, and the LORD sees not. 10 And as for me also, mine eye shall not spare, neither will I have pity, but I will recompense their way upon their head. 11 And, behold, the man clothed with linen, which had the inkhorn by his side, reported the matter, saying, I have done as thou hast commanded me. Nobody likes to think anything bad will ever happen to them. They go through their life, living as they please, not considering the consequences for their actions. Yet, God sees our actions. He knows our hearts. God told the man with the inkhorn – an angel – to go through Jerusalem and mark all those who were faithful to him on the forehead, and kill the rest. Does this sound familiar to you? God marked his people once before when they were in the wilderness, and there will come a day when God will once again mark all those who belong to him. However, Satan will imitate what God did for good, to keep safe all those who belong to him and destroy all those who belong to God. Exodus 13:9 And it shall be for a sign unto thee upon thine hand, and for a memorial between thine eyes, that the LORD'S law may be in thy mouth: for with a strong hand hath the LORD brought thee out of Egypt. (KJV) Revelation 7:2 And I saw another angel ascending from the east, having the seal of the living God: and he cried with a loud voice to the four angels, to whom it was given to hurt the earth and the sea, 3 Saying, Hurt not the earth, neither the sea, nor the trees, till we have sealed the servants of our God in their foreheads. (KJV) Revelation 13:11 And I beheld another beast coming up out of the earth; and he had two horns like a lamb, and he spoke as a dragon. 12 And he exercises all the power of the first beast before him, and causes the earth and them which dwell therein to worship the first beast, whose deadly wound was healed. 13 And he does great wonders, so that he makes fire come down from heaven on the earth in the sight of men, 14 And deceives them that dwell on the earth by the means of those miracles which he had power to do in the sight of the beast; saying to them that dwell on the earth, that they should make an image to the beast, which had the wound by a sword, and did live. 15 And he had power to give life unto the image of the beast, that the image of the beast should both speak, and cause that as many as would not worship the image of the beast should be killed. 16 And he causes all, both small and great, rich and poor, free and bond, to receive a mark in their right hand, or in their foreheads: 17 And that no man might buy or sell, save he that had the mark, or the name of the beast, or the number of his name. 18 Here is wisdom. Let him that hath understanding count the number of the beast: for it is the number of a man; and his number is Six hundred threescore and six. God will always set apart those who love him and trust him, from those who reject him and his Son, Jesus. For those who are faithful, no harm will come to them. However, for those who reject him, he will bring his judgment against them. As Christians, it should be our responsibility to respond as Ezekiel did, pleading for the lives of the lost. It is our responsibility to go to the lost and tell them about Jesus' love for them, and how much God loved them to send his Son to die for them and rise again the third day for their salvation. Our hearts should break for the lost. We should do all we can to bring God's message to everyone. If they will not receive God's love for them, then there is only one consequence for them. God will also hold us accountable for the message to the lost. Ezekiel 3:17 Son of man, I have made thee a watchman unto the house of Israel: therefore hear the word at my mouth, and give them warning from me. 18 When I say unto the wicked, Thou shalt surely die; and thou give him not warning, nor speak to warn the wicked from his wicked way, to save his life; the same wicked man shall die in his iniquity; but his blood will I require at thine hand. 19 Yet if thou warn the wicked, and he turn not from his wickedness, nor from his wicked way, he shall die in his iniquity; but thou hast delivered thy soul. 20 Again, When a righteous man doth turn from his righteousness, and commit iniquity, and I lay a stumbling block before him, he shall die: because thou hast not given him warning, he shall die in his sin, and his righteousness which he hath done shall not be remembered; but his blood will I require at thine hand. 21 Nevertheless if thou warn the righteous man, that the righteous sin not, and he doth not sin, he shall surely live, because he is warned; also thou hast delivered thy soul. How will God judge you? Have you done all you can to bring his message to the lost? Or do you expect someone else to tell the lost about God's love for them? Let's pray: Father, give me a heart of compassion for the lost. Let your message be on my lips and in my heart to deliver a soul from eternal death. In Jesus' name, I pray, amen. Copyright © 28 December 2017 by Valerie Routhieaux Image courtesy of Pixabay
3 responses

• Banks, Oregon
28 Dec
I don't know what to do any more my friend, it's a battle I haven't found a way to win. I have cried, begged, yelled, screamed, prayed at each second, for Christmas wrote cards with a nice message even to ones I can barley tolerate as to even see & still the same retardation goes on and on as it has for over 10 years now.

• Green Bay, Wisconsin
28 Dec
God knows your heart. He sees your tears. He hears your pleas. All you can do is give it all into God's hands and watch what he does.

• United States
28 Dec
hate spreads more hate. fear spreads more fear. Compassion creates compassion. Love creates more love.

• Banks, Oregon
28 Dec


• United States
28 Dec
I try my part. I don't believe in the "follow him or suffer and die" approach. That just doesn't sit well with me in how I personally see god. I don't think a person who follows just for fear truly follows. There should be respect there and love, a different kind of devotion that I think God understands. Hes given us the means to understand what he expects out of us. How we do that is up to us. It only makes sense we try to share his word through our positive actions. The using hate, fear,or violence against others isn't productive to sharing Jesus' message about love and forgiveness. Leave god's angels to be his strong arm; let us people be lights to illuminate a path back to god.

• Green Bay, Wisconsin
28 Dec
And it shouldn't sit well with you. Israel at this time was in captivity. God had given them chance upon chance to follow him and obey, but they refused and worshiped idols instead of God. God needs to be faithful to his Word and promises, and sent the people into exile. He also told them through his prophets what would happen to those who went into captivity. Some would die by sword, famine, and pestilence, but there would be a remnant. God loves his children and doesn't want to bring any kind of judgment against them. However, when they fail to accept him, there is only one response God can give, and that is eternal separation. It isn't God who sends anyone into eternal separation, it's our choices, our actions. We send ourselves. It's our decision to accept or reject God as our Father and Jesus as our Savior. The consequences of our behavior rests on us, not on God. Consider your relationship with your children. When they do something wrong, you tell them what the consequence of their behavior will be. When they fail to obey after you told them the consequence, you have no choice but to follow through with their decision.

• United States
28 Dec
@just4him
true! I just try to leave it be their choice to do whats right or wrong. I really don't like using fear as a motivator. In teaching them about God, I hope they follow him because the love, admire, and are devoted to God. Not because they will burn in hell if they dont. That doing good because its right and what Jesus did is more important.

• Green Bay, Wisconsin
28 Dec
@Daelii
Yes, it is, but at some point in their lives they will need to know the consequences. I learned it in parochial school and was never fear intimidated by it.


• Wausau, Wisconsin
28 Dec

• Green Bay, Wisconsin
29 Dec