Holiday Depression Alone Fight Suicide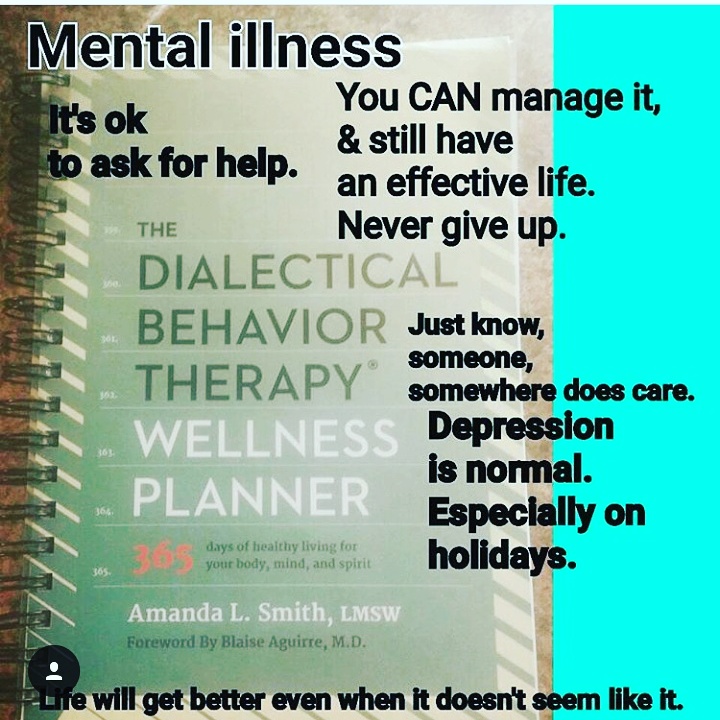 December 29, 2017 8:36am CST
HOLIDAY DEPRESSION I feel like, if this touches one person I did my job. I have been publicly speaking on mental illness. I have came to a point in my life, where not only did I overcome the odds that now I can speak out. You can't help other's until you help yourself. I had someone call me last night, wanting to harm themself. Depression is so common around the holidays. It's ok, to ask for help. Never give up. You think "why me?" "Nobody cares, nobody texts, nobody calls, or anwsers the phone." When your in that moment, stop. Focus on small things. Trust me some of you are looking at this, saying "yeah right. FML." I have been there, thinking could it get any worse?...Don't let your illness define your life. Everyday is a struggle. Fight.

7 responses

• Banks, Oregon
29 Dec
Nice of you to help & yes no matter how bad it is, it can get better again.

•
29 Dec
Yes. I am trying to figure this site out. You can only get paid $5 per month?

• Banks, Oregon
29 Dec
@laurenelizabethws
You can make more, but you have to make at least 5 to reach pay out for the month, other wise your earnings will add on with what ever you make the following month.

• Uzbekistan
29 Dec
Welcome to myLot. Enjoy the site! The first step for all newbies is to read the Guidelines to learn what is allowed or not on the site. Then you can write a post introducing yourself. Tell us a bit about yourself. Furthermore, read around as much as you can, Like and Comment on other members' posts. Only then will members come to your site and do the same. This is called interaction. Don't expect too much money-wise. If you reach $5 a month (the payout limit), you can call yourself lucky. Please add the name of your country to your account page.

Have questions about myLot? Help is here!



• United States
7 Jan
@chikatilo1
yes I take celexa and lamictal right now. The two together work well for me. I could benefit from a higher dose of lamictal (the mood stabilizer) but I have a bleeding disorder and it causes me to bleed if I take a higher dose.


• Bridgton, Maine
29 Dec
Actually, if you're dealing with serious mental health issues, it's more than just OK to ask for help. It's terrific to ask for help!

• Philippines
29 Dec
Thank you for this posts. Actually im feeling the same way occasionally. But you gotta think that after a bad happening, it will only get better.