Can Europe mentally deal with refugees?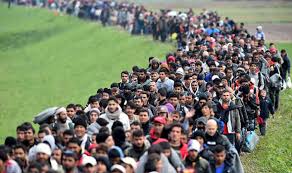 Northampton, England
December 30, 2017 8:13am CST
Islamic immigration is tearing Europe apart, even though its just 7% of its population. As a block Europe has one passport and if you can get into Europe you can roll across many borders with little hassle. Austrian jail populations are as high as 80% foreign nationals now (mostly Eastern European Roma) and it's all too much for the beautiful Alpine country. They have just voted in an extreme right wing led government to stem immigration and many of the Eastern European countries also have right wing parties in control. France, Spain and Portugal are the only ones to move to the left as they vote in leaders who will keep them in the European Union and so be bailed out by the European Union money as the youth continue to laze around in the sun or do uni, 25% youth unemployment common there, even in the good times. In 2016 as the Syrian War peaked hundreds of thousands of Muslims from the Middle East moved north and pushed on to the European Union, a Union burdened by huge debt. North Africans were doing the same as large inflatable's full of young black men crossed the Mediterranean, one in ten drowning in the early days as people traffickers dumped them mid sea so the wests guilt had to rescue them, literally sink or swim desperation. Charity rescue boats would fish most of them out and bring them to Italy. The Italians were not happy having poor black faces in their rustic postcard villages and beach resorts and the Five Star movement look set to take power in March 2018. Meanwhile the Middle East Arabs landed on the beaches of the Greek Islands in inflatable boats and all sorts, like an invasion force in some people's minds. The Greek Islands quickly filled up with mostly Syrians and Iraqis, as did other holiday islands. Other people from mostly Muslim countries disrupted by war and instability tagged on to the line in Turkey as more than one million were on the move to Europe. It made Europe nervous. Some were refugees escaping conflict but most of them were young men of working age with mobile phones, snapchat accounts and clean pressed clothes packed by mom and clearly economic migrants who would need housing, feeding and black market jobs. European governments are beginning to fall as the people said no more. Brexit was a result of this movement. The EU had to act and did, not to take them in but block them out. Originally the German Prime Minister had chosen to welcome them and that encouraged huge flows to Germany. The refugees didn't want to stay in the first country they entered in Europe to claim asylum but cherry pick the best ones. Germany could not simply turn them away in trains or put them in camps as it would rekindle holocaust imagery, and so shame. Merkel made the near fatal mistake to say you are all welcome, if you could get here as more and more Eastern European countries blocked their supposedly open borders, causing tensions across Europe. The Turks were the key to stopping the huge flows and as soon as they were paid the first chunk of two billion Euros to slow the numbers coming from, and through Turkey, the numbers dropped dramatically. Refugees were rifle-butted in the sea to turn back, many of their inflatable's knifed if they came closer to the shore, most of the 1700 stores selling inflatable's in Turkey closed down as Europe closed its borders. Now there was no prize for the people and they stopped coming, simple as, proving all along the main flow was economic migrants, just 112 arriving last month in kos. The bespoke asylum package in Europe was over. The welfare packages were very nice in some of Europe's more liberal countries. Why else would 200,000 Muslims refugees a year head to icy cold Sweden? Europe's hard left don't want to talk about Sweden having the best welfare package in Europe. 10% of Sweden is now Muslim because of. The EU ignored that white working class anger so we got Farage and Le Penn, why America has Trump. Off the coast of Italy the charity boats were banned from leaving the port and acting as a magnet to those young black Africans. The Libyans were paid big money like the Turks to stop flows and the people traffickers there now working as anti people traffickers for similar illicit profits as the flow halved in three months. The Libyans were literary leaving people to die in the Med, if they didn't get rescued. It was one way trip. Now it was double bubble for the pirates, shipping them out towards Italy at night, and then shipping them back on EU money the same day.
4 responses

•
30 Dec
What a world we live in. Unless I was escaping the ravages of war, you would never find me migrating from my region to countries where I am not wanted and live as a second class citizen. Right now I do not live in the land of my birth - Guyana - because of closer family ties in a Caribbean island - but I am still in the region and here I shall remain. Of course I worked in my country's embassies overseas for a period, and I have visited other countries from time to time - but the Caribbean will always be my home.




• Northampton, England
30 Dec

•
30 Dec
@thedevilinme
That would be nice, but I am not gutsy enough. I am a big fan of James Bond movies though.

• Northampton, England
30 Dec
@Kandae11
Danny Craig saved the franchise . iDRIS eLBA NEXT bOND


• Chile
30 Dec
Interesting post. I´ll read about it.

• Northampton, England
30 Dec
Gracias. Intersante periodicas

• Chile
30 Dec
@thedevilinme
You are welcome. Refugees are a problem that has to be solved in the same way by everyone. Yet, there must be a way to check whether they are refugees, terrorists or people that want to immigrate for other reasons.

• Switzerland
30 Dec
Being Italian, I am pretty sure that the Italian politicians are making big money with this "traffic", but the Italian population has enough of this massive immigration. The worst is that they are asked to give up their tradition to "please" the Muslims. Surely for the moment I stay where I am.

• Northampton, England
30 Dec
Five Star party could do well babe


• Oklahoma City, Oklahoma
2 Jul
This shows a problem America has---not anything specific with immigration-law, so much as 'how we Americans digest our news.' I (a product of America's public-school system) only read through the first half-paragraph of this and--partly because I'm not really interested, and partly because I want to 'respond' more than I want to 'understand'

--I kinda skimmed through the rest and didn't really pay attention until I got to that sentence that tells us "why America has Trump." I'm thinking that that's why Americans think our immigrations-officials (ICE, border-patrol) are 'heartless Nazis separating families into daycare-cages & prison-camps'---we're not so interested in "finding out what the problem is" as we are in "finding out who the bad guy is and starting to 'hate them more' (or something)."