Are black girls going straight in fear of racism?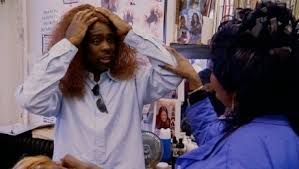 Northampton, England
December 31, 2017 5:33am CST
Black girls are changing and their attitude to beauty very different in the new millennium. It's all wigs, extensions and hair straightening these days as women of all colors and of all ages try to get the western long hair look and lighter skin. Even the old black mamas are partial to the odd wig or two, more likely to be looking like James Brown than Oprah Winfrey, though. There are tumble weeds (or tumble weaves) of hair blowing around in some areas of Detroit and Chicago. I personally like the look and a lot of sexy black women out there with the longer hair thing but for black feminist it's all too much and a betrayal of the curly Nubian 'sista' look. But the slave history of the curls has seen many black women turn away from that natural look so to be accepted in white western society more, America a much divided country on race and so one - way traffic on that one. It's sad and liberating at the same time. It's the same with skin bleaching creams but that's another review for another day. I saw a funny and thought provoking documentary by Chris Rock on black women's hair and learned a lot. Did you know 40% of black women never learned to swim in fear of messing up their expensive hair set up or, at least, that's what Chris Rock told me. The more disturbing side was little black girls having their hair straightened at a very young age with various chemicals that can burn if misused. That's upsetting to me that kids loses choices at very young age. It was also interesting to learn that the vast majority of hair used and sold in America in hair products for women of colour comes from India and sold by Koreans. There is a bizarre religious ceremony in India where followers have to have big chunks of their hair cut off as some sort of penance to their Gods and a lot of this hair then ends up n America on black women's heads. Some say this religious ceremony in India has been 'revived' to meet this demand in the new century. As South Koreans run many convince stores in America I guess that's why they dominate the market. Its an interesting one.
4 responses

• United States
31 Dec
I don't think it has anything to do with racism. Black women have been straightening their hair as long as I can remember. I think it has more to do with being about to control their hair than anything. America's not as divided on race as some would have you believe.

• United States
31 Dec
The media makes it look like the whites and blacks hate each other. I live in Mississippi and happen to have had a wonderful life with my black husband for nearly 30 years


• United States
31 Dec
The pool thing is very true for sure. The sad fact is that some woman have worn false hair for so long that seeing themsevlves in the natural state is not possible. They won't leave the house without a scarf in that case. It's ust horrible to be honest. That is why they need to stop putting that in childrens heads. But you know it's just as bad as wearing a pound of make up and not letting your true self shine. I think chris rock was funny in that. but not everything he said was true. That straightening iron burns like hell.

•
2 Jan
My African friends love to have their hairstyles change every now and then. Some of them can't grow long hair and very bitter about that. Re: wigs, artificial hair wigs are very beautiful.

• United States
31 Dec
I think that black women look beautiful with their natural hair. I have never understood why they feel the need to cover or change it.