They only swim in the shallows these little ones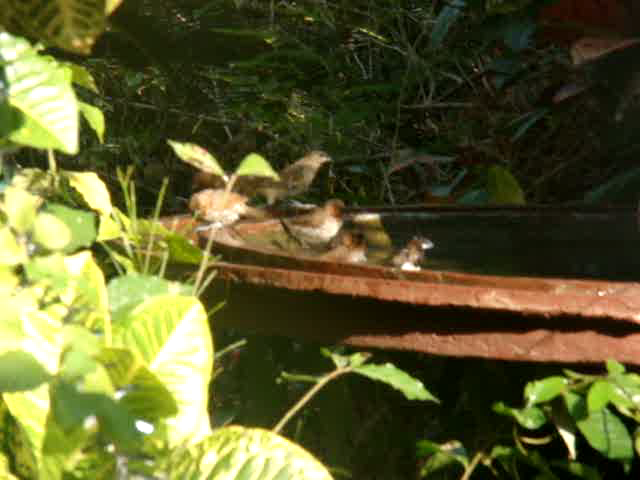 India
January 1, 2018 5:03am CST
These little ones are wise. They only swim in the shalows while the bigger birds will get into the deep. That is how this birdbath is designed - for birds of all sizies. I clicked this video a while ago. They come around noon while it is the hottest outside. I have to use the zoom feature to capture them as the slightest movement from me they fly away all in one group. There is yet another group that comes and they are bigger words. These bigger birds make a lot of noise but not these little ones. Do you see birds in the cold weather? I find the video is a bit shaky but watchable.

These little ones will swim in the shallows of the birdbath at Solitaire
8 responses

•
1 Jan
I never could take pic of pretty birds. There were times I waited and tried for hours, got nothing for my effort except just leaves and branches...


• Bunbury, Australia
1 Jan
There is a great website where you can put up all those terrible photos you didn't take of birds. It's called cr*p bird photography and now has several thousand members. They all have a hilarious time being rude about the terrible (non) bird photos.

•
1 Jan
@allknowing
those birds I aimed to take a pic of, they were tiny and very pretty. I managed to zoom, but they hopped faster!


• London, England
1 Jan
What type birds are these? May the spirit of the season of New year fill your heart with serenity and peace. Wish you a happy new year!

• Bunbury, Australia
1 Jan
Little birds love their birdbaths don't they?

• India
1 Jan
In our birdbath even crows have a great time and so do the water fowl





• United States
1 Jan
Those little birds are having a wonderful time in that water. We do not see very many birds in the cold of winter.

• Los Angeles, California
1 Jan
I see birds year around as our climate is mild.