Faith Can and Faith Will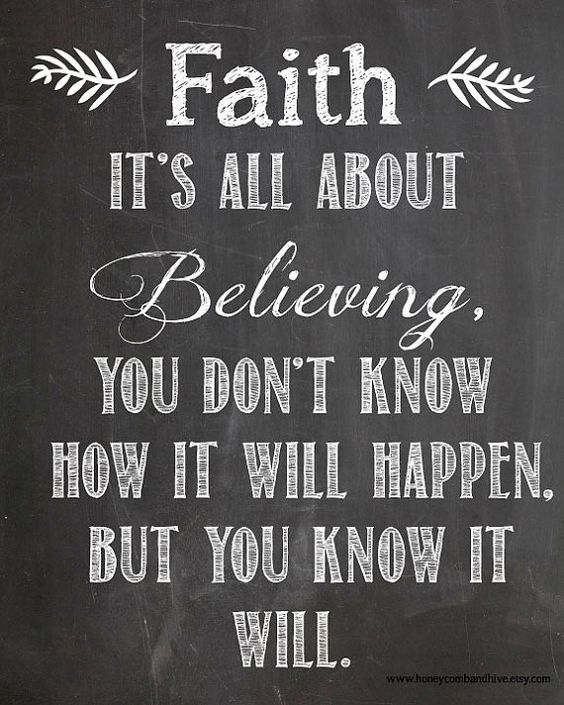 United States
January 3, 2018 7:21am CST
I pray and meditate daily in order to increase my FAITH. I believe in my heart that positive change is coming my way. FAITH can move mountains, big and small. Sometimes we have to move out of our own way in order for FAITH to work. I know we think we have all of the answers, but sometimes it is good to just STOP...Pause for a moment and allow God to guide your every step! In most cases, you will stumble across a blessing that is BIGGER than your little imagination can create. It's amazing to me when people complain and never have anything good to say or think, but want to hate on me for smiling, being happy, and still encouraging them to do better...be better...act better! I will not let anyone still my joy or allow me to miss my blessings that can only come from above. Despite what you may be going through right now in this very moment, FAITH can work miracles in your life if you just let go and let God. Can I get a witness?
5 responses

• United States
5 Jan
God has never failed to answer me when I am in need. I feel his presence daily,

• United States
6 Jan
@BelleStarr
- That is so AMAZING to know that God always will always hear your prayers!

• Jacksonville, Florida
3 Jan
Absolutely, God is faithful-in His time! =) Don't let anyone steal your joy, they cannot take what they did not give you.

• United States
4 Jan
@LovingMyBabies
- You sound like a preacher! I love your positive energy! Thanks for your kind response.

•
3 Jan
Let go and let God.This is the best way to describe faith.

• United States
3 Jan
@franxav
- So true and often times we allow ourselves to always be in the way!

• Canada
14 Jan
It is so true that we only know it will but we don't know the how until after it has happened.

• St. George, Bermuda
1 Apr
In life we all have choices whether it is to live a negative or positive life We have the Power of God to make a conscious decision to live a negative or positive life we have to Power in Jesus Name To Speak to The Mountains and Storms and command them to move in Jesus name Once we Allow God to Be God in Our Lives All will Work Out For Our Good Because All things Work together For Good To Those Who Love God and Who Are Called According to His Purpose.