Daily Bible Study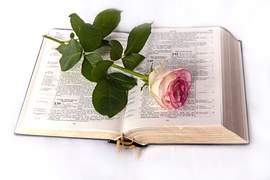 Green Bay, Wisconsin
January 3, 2018 7:22am CST
Day 14 Ezekiel 14 Ezekiel 14:1 Then came certain of the elders of Israel unto me, and sat before me. 2 And the word of the LORD came unto me, saying, 3 Son of man, these men have set up their idols in their heart, and put the stumbling block of their iniquity before their face: should I be enquired of at all by them? 4 Therefore speak unto them, and say unto them, Thus says the Lord GOD; Every man of the house of Israel that sets up his idols in his heart, and puts the stumbling block of his iniquity before his face, and comes to the prophet; I the LORD will answer him that comes according to the multitude of his idols; 5 That I may take the house of Israel in their own heart, because they are all estranged from me through their idols. 6 Therefore say unto the house of Israel, Thus says the Lord GOD; Repent, and turn yourselves from your idols; and turn away your faces from all your abominations. 7 For every one of the house of Israel, or of the stranger that sojourns in Israel, which separates himself from me, and sets up his idols in his heart, and puts the stumbling block of his iniquity before his face, and comes to a prophet to enquire of him concerning me; I the LORD will answer him by myself: 8 And I will set my face against that man, and will make him a sign and a proverb, and I will cut him off from the midst of my people; and ye shall know that I am the LORD. 9 And if the prophet be deceived when he hath spoken a thing, I the LORD have deceived that prophet, and I will stretch out my hand upon him, and will destroy him from the midst of my people Israel. 10 And they shall bear the punishment of their iniquity: the punishment of the prophet shall be even as the punishment of him that seeks unto him; 11 That the house of Israel may go no more astray from me, neither be polluted any more with all their transgressions; but that they may be my people, and I may be their God, says the Lord GOD. Have you needed to set down the law to your children because of their continued disobedience? What happened? Did they remain stubborn, or did they obey? God set down the law to his people, his children, the children of Israel, who had continued to disobey him by worshiping false gods, and doing whatever their heart desired. From the beginning of their disobedience, he had sent prophets to them to alert them to how he would discipline them if they continued on the path they were on. Israel and Judah had come to that point when God could no longer tolerate their disobedience, and knowing their stubborn heart, sent them into captivity, but not without the appeal for redemption. In order to redeem his people, he needed to have them understand fully the consequences of their behavior. God's consequences were more than a time out and a slap on the wrist. He told them he would not even listen to them because of the stumbling block they had set up before them. God told them everything he would do to them so their hearts would turn back to him, and he would be their God. As Christians, your redemption comes when you obey God, and accept Jesus as Savior and Lord, turning your heart to him in total obedience. However, living a Christian life isn't easy, because Satan will be in your ear telling you everything you've done wrong from the moment you were born. First, you must acknowledge your sin. You do that when you accept Jesus as Savior and Lord, and then every day after that because we are all sinners, saved by God's grace, and need his forgiveness daily. Then, you turn your hearts to God, to know his will for your lives. You can't accept Jesus as your Savior and Lord one day, and then return to your same lifestyle immediately afterwards. Salvation doesn't work like that. It takes a whole heart commitment to God to follow him and be obedient to him. God brought Israel out of bondage in Egypt, gave them the Ten Commandments along with his law, so they would know what he required of them. Then he led them through to the Promised Land, where he told them they needed to get rid of the people of the land. Yet they didn't get rid of the people, they interacted with them, and began following their gods and integrating their lifestyle with their own. God didn't call his people to integrate with the world, but to separated themselves from the world, following his commandments, decrees, and statutes, yet they would not. When you integrate your Christian life with that of the world, what are you telling God? Aren't you telling him, he isn't all you need, but you need more? Don't let Satan's lies lead you down the path of destruction. You don't need anyone else besides God, and Jesus, his Son, your Savior who bridged the gap between you and God so you could have eternal life. That's all you need, and Satan knows it, which is why he is doing all he can to come against you with the world's temptations, to lead you astray from God. Don't listen to Satan. Don't let him manipulate you. Don't let his honeyed words sink into the depths of your soul. You must rebuke him, cast him from your life, and turn your heart, soul, mind, and strength to God Almighty. When you do, Satan will flee from you. Let's pray: Father, help me keep Satan far from me. Keep me away from anything that would tempt me with worldly pleasures and take me away from you and the plans you have for me, which are pleasant and bring rich abundance to my life. In Jesus' name, I pray, amen. Copyright © 3 January 2018 by Valerie Routhieaux Image courtesy of Pixabay
2 responses

• Wausau, Wisconsin
3 Jan

• Green Bay, Wisconsin
3 Jan

• United States
4 Jan
Amen Thank you again! I couldn't get back to sleep after getting baby girl back to bed. Some of the things I was thinking about was the difference in early Christian s and now. How much empower ing it must have felt to have actually meet Jesus. That it clearly made a difference in how people acted. It was a positive difference that seems lacking. But really its not. Its just that I realized I hadn't fully invested myself to god. I kept thinking I need to better myself to be worthy. Now I realized I am already worthy, I just need to listen better!

• Green Bay, Wisconsin
4 Jan
We have 20/20 vision on yesterday. However, as you read the Bible, it was very hard being a Christian back in the early church. There were so many people who lived at the time of Jesus, and yet they didn't believe he was the Son of God. Even Paul, who wrote 13 of the 27 books of the New Testament started out persecuting them before he met Jesus on the Damascus Road and had his life changed forever. Listening is the most important part of being a Christian. We need to be able to discern the good from the bad, and know when Satan is out to destroy us. The only way to do that is with the help of the Holy Spirit. I'm glad you're investing in God's Word, spending some time in it daily. It will make the biggest difference in your life as a Christian.