Never Mind!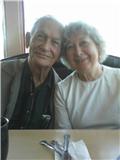 Virginia Beach, Virginia
January 3, 2018 11:31am CST
1 Dozen Large Brown Eggs ½ Gal. Whole Milk 2 Boxes Vanilla Wafers 6 well-ripened Bananas 1 cup Sugar 1 tablespoon Vanilla 1 Stick Butter,……… Hey! Wait a minute! These aren't the notes I jotted down to make another post. From what I can see none of this has anything to do with when I got my lobotomy. Instead, it looks like either a grocery list or the recipe for banananana pudding. Hmmm. How many na's in bananana? Anyway, it appears that I have misplaced my notes. That is one of my biggest problems. I write stuff down so I won't forget it but then I forget where I wrote it down. By the time I find them it is usually too late. The worst time was when I misplaced my sermon notes I had to preach the whole sermon right out of the book of Concordinance. That was quite difficult because it kept changing topics on me. So, I might be forgetful in my old age but there are two always remember. Our anniversary and Becky's birthday. They are actually impossible to forget because my Beloved made me get them tattooed on the back of my hands. I only have to remember to look at my hands. "I already told you!" She says that to me a lot, with a little edge because I forgot. Either that or she hasn't accepted the fact that my hearing is not as good as it once was. It makes me feel bad when I have to ask her to repeat something because she seems to resent that too. Again, the edge in her voice. Still, her repeating something for me is bearable. I can live with that. I have found that it is time to beware when, instead of repeating what she said, she dismisses me with "Nevermind!" There's no such thing as "never mind". Never doesn't even belong in that word! Never means "not ever". Yet, it doesn't mean the subject is "never" coming back. It most certainly will, with a whole bunch of other "never mind's" with it. And just when we thought she had me trained, it was time to re-write all the rules. Let me tell you about the hoops I have to jump through now. Oh, never mind!
10 responses

• Anniston, Alabama
3 Jan
Get a hearing aid! That way she will not have to say it 5 times.

• Virginia Beach, Virginia
3 Jan



• United States
3 Jan
I would think all the hoop-jumping would be a marvelous form of exercise! You must be in the best shape!!!

• United States
3 Jan
You really need to worry about forgetting things is when you go to the bathroom and forget why you're there. I write myself notes, look at them later and wonder what the heck they're all about!

since the fire my memory has gotten a touch worse. But its getting a bit better each day. I'm still looking for the price tags for the stuff I want to put in the shop. Their here somewhere... it's just figuring out where! I've got phone numbers written down but no idea who their for or why I've got them written down.

. Anymore when someone asks me if I did..I answer "no" instantaneously before they get the rest of the question asked. Then they get upset and snap at me that I didn't let them finish the question. So I let them finish the question and answer it with the proper answer. I've given up worrying about forgetting. I have a personal organizer that I keep all my important appointments in, along with phone numbers, doctors, medications, and other important information. Saves a lot of time searching and worrying. Well I suppose I should get some breakfast and get dressed. I need to get two more small bags of recycling sorted so we can cash it in tomorrow. Then to the pain doctor, and several other stops. It's much better to be prepared. Oh, in case I forgot, Merry Christmas and Happy New Year!

• United States
3 Jan
I stopped in today to check notifications on my last discussions (from past two weeks), and saw you in the latest discussions queue. Thank you for the laugh.

• Virginia Beach, Virginia
3 Jan

• United States
4 Jan
"Never mind" is up there with
"It's fine."
When a woman utters those words to a man, it's never
fine.


• Eugene, Oregon
3 Jan
I think I read that hoop jumping is going to be a new Olympic event.

•
4 Jan
Uncle Joe, thank you for your post. It was really interesting. I forget things too and forget where I put things too.

• Fairfield, Texas
3 Jan
I ain't gonna say nothing
@UncleJoe
; Becky knows where I live.


• United States
3 Jan
That'd be a lot of hoop jumping for ya

! Just don't ever forget how to jump!