The Best Christmas Gift EVER!!!!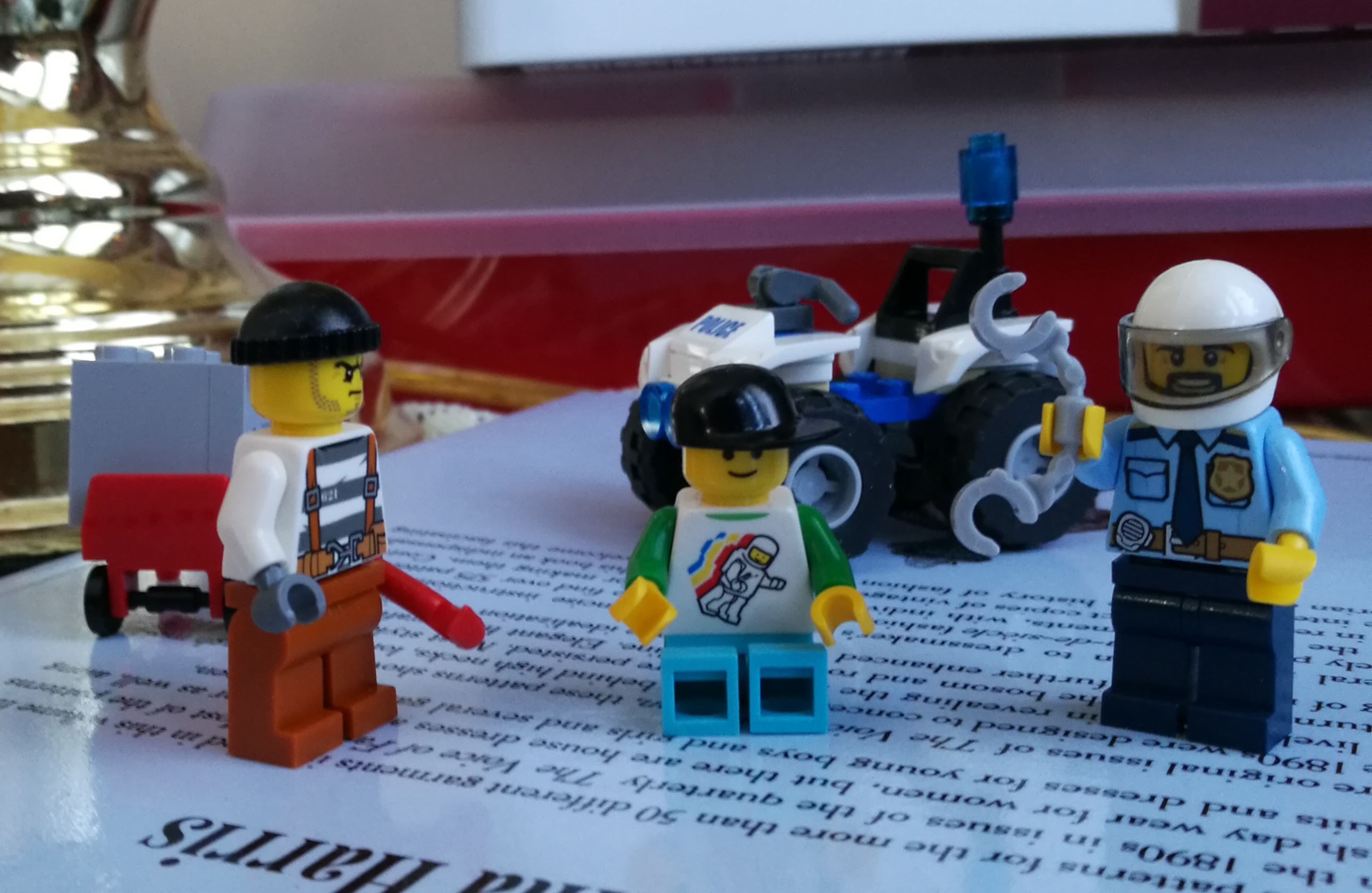 Winston Salem, North Carolina
January 4, 2018 11:50am CST
I really wasn't expecting anything, so when I saw a Lego City box in Mrs J's stocking on Christmas morning and heard her daughters announce that the Lego was for me, I was thrilled. Mrs J used to have a rule about not opening Lego packages away from home, but she decided to waive the rule this year since her kids are all old enough to be responsible for their own toys. I ripped open the box and with a little bit of help from a set of human fingers I was able to get my gift assembled. One police 4-wheeler, one hand-cart with a safe filled with bars of gold and FRIENDS!!!!!! That's right, I now have friends of my own. People my size to do things with. Theo Thug and Peter Policeman and I are going to have all kinds of fun together. At least that's what I'm hoping. Peter seems to be a bit of a stick-in-the-mud. He didn't think setting off those firecrackers in the house on New Year's Eve was a good idea, but I'm pretty sure Theo will end up being my BFF! He likes to have fun just as much as I do! Did you get any unexpectedly wonderful gifts this year? --Emmett
7 responses

• United States
4 Jan
This year? Why yes, I did. Someone sent Scar a Carhartt coat, but it was too big for Him, so He gave it to me instead.


• Winston Salem, North Carolina
4 Jan
Definitely an appropriate gift considering the temperatures outside! Too bad they don't make them in my size!

• Green Bay, Wisconsin
5 Jan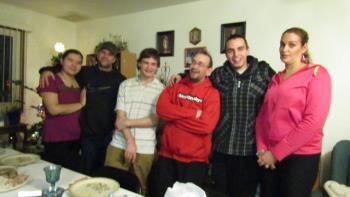 I see what you mean, he does look like a stick in the mud. Give him a chance though, he might surprise you. I'm glad you have some new friends.

My best gift this year was having my children all together here on Christmas Eve, without fighting and bad feelings. Yes, that was the best present I've received in many years.

• Winston Salem, North Carolina
5 Jan
That will be an awesome gift!

• Green Bay, Wisconsin
5 Jan
@Platespinner
It really was, my three children are my daughter in the pink, my younger son in red, and my older son with his arm around his girlfriend. The other two boys are my grandsons, one standing next to his mother and the other next his father, my youngest.

• Winston Salem, North Carolina
5 Jan


• Moses Lake, Washington
7 Jan
Yes I did. Right after Christmas my beloved Sonny kitty suddenly disappeared. Eight days passed and I thought well, give it up, coyotes or some such got him. Then I looked out the door and there he was, looking at me like he'd never been anywhere. Total joy.

• Winston Salem, North Carolina
8 Jan
We've had kitties go missing like that. Is scary to not see them for a week or more. Thankfully they always seem to turn up again. I'm glad your fur baby made it back home safely!

• Moses Lake, Washington
8 Jan
@Platespinner
This fur baby is supposed to be on a Vet prescription diet so his being gone really was scary.

• United States
4 Jan
Way to go Emmett, yes my grandson made me a set of aluminum dominos, they are beautiful and I love them.

• Winston Salem, North Carolina
5 Jan
My humans think that handmade gifts are the BEST! Mrs J assembled my new friends by hand, does that count?

• United States
6 Jan


• Winston Salem, North Carolina
5 Jan
Even though you don't celebrate Christmas, did you still enjoy receiving the cards? Or did it annoy you that people sent them despite the fact that you don't celebrate?

• Brussels, Belgium
5 Jan
@Platespinner
not annoyed at all. I was happy that they remembered me in their holidays

• United States
4 Jan
Now, it is wonderful that you have friends now. I am sure Theo will make a great BFF!!! Best gift was a donation my son made in my name to the local animal shelter. He knows his mother well.

• Winston Salem, North Carolina
4 Jan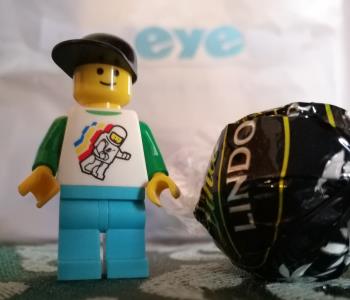 Theo is a very exciting character. He and I raided the Lindor Truffle stash this morning. Shhhhhhh. Don't tell Mrs J.

• United States
4 Jan

• United States
7 Jan
Oh boy I was very worried about you Emmet when I first saw the photo. I thought you had gotten yourself into a mess of trouble. Hopefully your new friend Peter can keep you and your new friend from getting to wild. It's always good to have a voice of reason in he group.