Looking forward to Thursday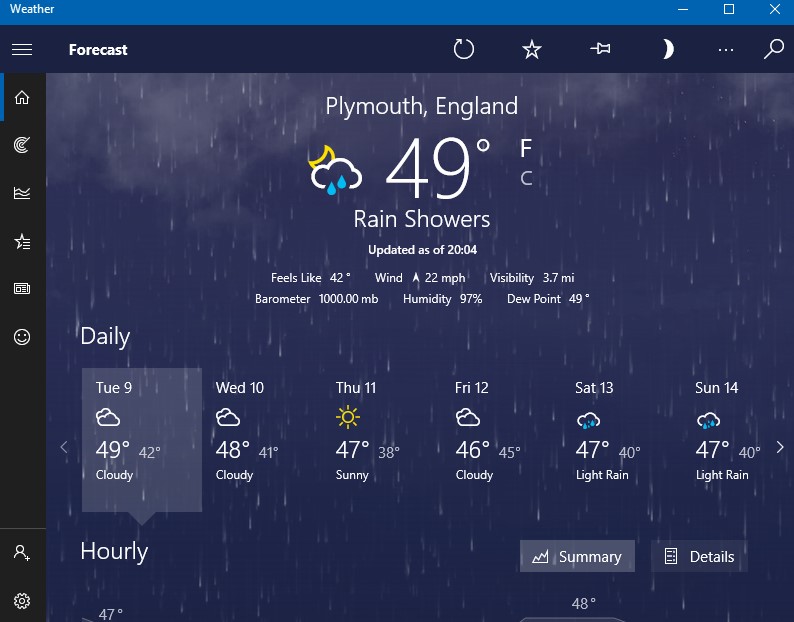 January 9, 2018 2:23pm CST
Looking forward to Thursday Currently, it's raining here and it's been since mid-afternoon, steady rain although it's meant to be light rain. Hopefully, if they have got it right, fingers crossed because half the time they haven't it should be sunny YAY, can't wait. It's been dully and cloudy with rain for about 4/5 days now and you can only take so much of that. I need blue skies and warm sunshine. Let's hope Thursday will be a good day for the weather and it's sunny. Screenshot of what the weather should be the rest of the week, wet weekend ahead :(
8 responses

• United States
11 Jan
It's going to be in the 50's here Thursday with rain off and on and then we have a snow storm coming our way starting Friday night into saturday.

• United States
12 Jan
@kevin1877uk
Their calling for a foot of snow saturday, I am not looking forward to it.


• United States
9 Jan
sort of a bland week for you there Kevin.Something like ours at the later part

• United States
10 Jan

• San Antonio, Texas
9 Jan
Hope it does get sunny ! Have a great day !

• San Antonio, Texas
9 Jan

• Bunbury, Australia
10 Jan
We have temperatures in the mid to high thirties at the moment - but that's Centigrade.

• Charlotte, North Carolina
9 Jan
We are enjoying a sunny day in North Carolina with 50+ temperature. It won't last, but we are feeling grateful for it while it does! The wet days are the worst for most people, aren't they
@kevin1877uk

•
10 Jan
Enjoy the nice weather, yes wet days are the worst especially when you get a lot of them.

• United States
9 Jan
Yes, Thursday does look like a great day for enjoying the weather. Hope you have a chance to get out and enjoy it.

• Moses Lake, Washington
9 Jan
Rain and fog here, too- I think you gave me your blessedly mild though gloomy weather. I appreciate it. Thanks.


•
9 Jan
I'm in work over the weekend, but yes it's not nice having to stay in because of the weather.