Coconut water !!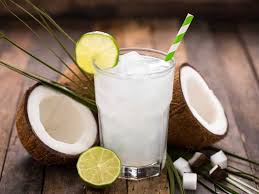 India
January 13, 2018 3:52am CST
My mom is preparing poli now.... It is one of my favourite sweet item. Major ingredients for the preparation of poli include maida flour, grated coconut, and jaggery. So, my mom broke two coconuts for preparing poli..she used the coconut for making poli and gave me the coconut water.. yummy ...


Coconut water has lot of health benefits. It is a good source of vitamin C and it also contains potassium, sodium, calcium and other nutrients. During summer season, the first thing that comes to our mind is coconut water and other soft drinks. Than cool drink , coconut water is best because it's tasty ,heathy and natural too...it quenches our thirst and makes us feel refreshed.. Coconut water is good , because it helps in reducing blood sugar level and reduces blood pressure , also it has other health benefits too. Do you like coconut water? If you know anything else about coconut water, do share..

The picture of poli ,I'll share with you in my next post.. Image courtesy Google.
5 responses

• Philippines
13 Jan
Looking forward for that poli, I think its a nice delicacy. Yes I also prefer coconut milk over any juices.

• Philippines
13 Jan
First time to hear of poli. I love fresh coconut water juice with shredded coconut meat and sugar. It's so refreshing