Hopefully someday, PayPal will operate in Nigeria

11 responses

• United States
15 Jan
PayPal operates in Nigeria, just with limited functions.

• United States
15 Jan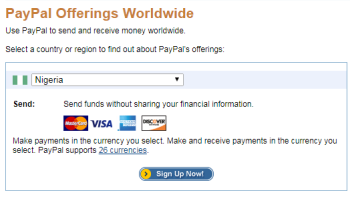 @shynu44
You can spend from it (send money) but you can't receive money unless it is from things you sell or from an online job.

• Kathmandu, Nepal
15 Jan
We can't cashout from banks. That's unfortunate in Nepal!


• Kathmandu, Nepal
15 Jan
Well, not yet in China means it is far beyond in Nepal!


• Kathmandu, Nepal
15 Jan
And that applies to our country, Nepal, too. It is very difficult to deal with since they aren't operating in our country. Thank you for this information. I thought Nepal was only the country PayPal isn't operating!

• Kathmandu, Nepal
15 Jan

• Philippines
15 Jan
Did you inquired already? Maybe you can try to contact paypal ask them why because paypal is very important in online job payments. So what payment method are you using in your online payments?

•
15 Jan
there's a time that Nigeria has a PayPal just wait until the time comes. but PayPal is one of the easiest paying methods for us. hopefully comes in Nigeria

• Philippines
17 Jan
Let's hope that the day will come when paypal is not the only mode of payment. I think digital currency will be a good modem of payment but this is only my opinion.


•
15 Jan
Its a very good money transfer platform and does very well here in Kenya

• Maracaibo, Venezuela
15 Jan
Paypal has many restrictions in many countries. Not only in Nigeria but also in Venezuela. We can only send and withdraw online. No cash We do not have official exchange control.