Leaves for longevity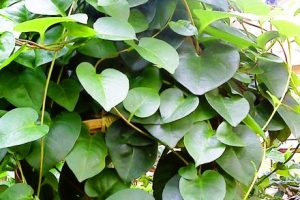 Indonesia
January 17, 2018 3:30am CST
It's called Heartleaf maderavine madevine -- vine that grows well every where. Its leaves as you see in the picture form like a heart. One of its health benefit is to make you live much longer. A very old woman aged 105 years of age said in one of the newspaper tht she loves eating fresh leaves, especially Heartleaf maderavine madevine. She eats two leaves of this plant everyday. Lots of kinds of diseases can be cured. If you have a wound, just cover it with crushed leaves. Have you ever seen this? Wanna give it a try?
10 responses


• Indonesia
17 Jan
No never heard of it? Can you tell me about it?

• India
18 Jan
Yes,I am familiar with this plant.Though not common we have this in some places in our state.

• Indonesia
19 Jan
Thats great. So you can make use of it.

• India
22 Jan
@yanzalong
Yes,it is a blessing that it is available here.


• Indonesia
17 Jan
Some companies make good use of it by selling dry leaves.

• Romania
18 Jan
@yanzalong
Then maybe you can have it as a tea? That would be easier to drink that chewing bare leaves...

• Philippines
18 Jan
HOw's the taste? I think I've seen one but I'm not sure. I'm not into vegetables, much more leaves like that. I think it tastes bitter and I wouldn't even try it at all.

• Indonesia
19 Jan
No it is not bitter. Not as bitter as papaya leaves are.

• Philippines
19 Jan

• United States
17 Jan
I have never heard of this vine. I would try it.

• Indonesia
18 Jan
Maybe the plant does not grow in United States.

• India
17 Jan
No i never heard about this leaves, they are a blessing

• Bunbury, Australia
17 Jan
I think there is a lot we still have to learn about what vegetation we can eat and what the benefits are.

• Indonesia
17 Jan
Yes, you are right. We have the tree near our laboratory. Someone purposely planted and he told me all about it.

• Philippines
24 Jan
Nope, I'm not familiar with Heartleaf but I believe in the power of organic medicine.


• United States
20 Jan
Interesting, and if it has those type of healing properties I would Love to have some... I have issues with wounds not wanting to heal right, and stay healed.