Weird Word Wednesday: Chionophobia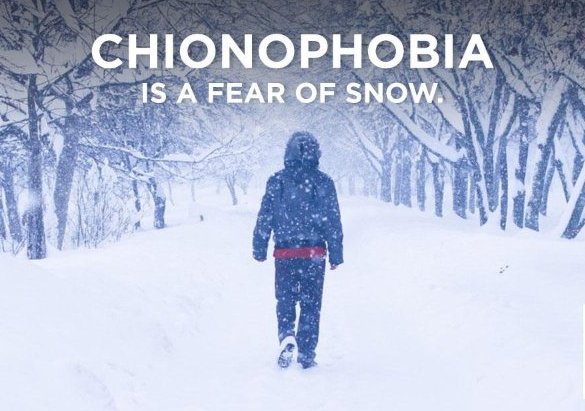 United States
January 17, 2018 8:02pm CST
I learned a new word today! Chionophobia. It's a very timely one, at least where I live. Chion is the Greek word for snow. I don't have a phobia of snow at all. But the only thing I really like about it is the way it looks. It's beautiful! I really prefer warmer weather and clear, safe streets and sidewalks. How do you feel about snow? And had you ever heard this word before?
7 responses


• United States
18 Jan
Thanks
@UncleJoe
. That's logical!

Thanks for your comment.

• Canada
18 Jan
I don't mind snow but I prefer no snow

• United States
18 Jan
Thanks
@Freelanzer
. In Canada and the US, I think there are many people who really look forward to the snow in winter. Some get very excited about it! Even though I don't really love it, I try not to be a complainer. I live in Missouri. We expect some snow every year.

•
7 Feb
I do not have a phobia for snow. I just had enough of it growing up in Minneapolis and hating winters. The only time I thought it was cool here in Jerusalem was when I had my dog and she loved it. I loved watching her. We do not get much of here anyways so so happy.

• United States
7 Feb
Thanks
@Hannihar
. I've never been to Minnesota, but I've heard that the winters can be quite harsh!


• Los Angeles, California
18 Jan
I never heard of this word before but it does not surprise me as there seems to be a phobia for everything.

• United States
18 Jan
Hahaa
@JohnRoberts
! I agree! I wonder if there is a phobia of developing a phobia?


• United States
18 Jan
I have not heard that before, but I think quite a few people might share that phobia!

• United States
18 Jan
Hi snowy22315. Thank you. Yes, that's quite possible!

• Philippines
18 Jan
i live in a sunny and humid country. i admit i would prefer cooler weather, but not snow, dark skies, short days, non-stop rain.

• United States
18 Jan
Thanks for your comment
@hereandthere
.