Join!

Philippines
January 19, 2018 7:18pm CST
Since I handle students at a special area in the hospital, we should not be attending and critiquing students for case colloquiums. This was made clear by our CC (Clinical Coordinator). But a colleague Miss Cata, lamented that she will be the only one who will critique the case presenters, so I had to inform our CC. I had to run after our CC who was about to ride on his van, and tell him about Miss Cata's concerns. Without thinking further, our CC said, "Anyway, the cases at the Delivery Room (DR) and Operating Room (OR) will be listed in the student's learning experience logbook, and none in IMCU, so you and your group can join the case colloquium, Ma'am". That was a quick response and decision from our CC, like in the other circumstances that he acted so swiftly without much thought. I hope there will be no regrets with that action. The case presentation was from my first group of students in IMCU. Last Monday, they had their duty at pediatric ward. They had to hurry interviewing the patient's mother, copy from the patient's chart, copy the statistics of the disease condition in the medical records section, print their case in big manila papers, and give manuscripts to me and Miss Cata, despite their plea to the CC to give them a week more to finish their task, to no avail. The schedule given to us by the CC has so many loopholes, and another example was the sheets of evaluation tools he gave me were already outdated, that I had a hard time tallying my grades to the desired rating at the tools. My, oh my!
8 responses

• Sutton, England
20 Jan
Certain loop holes are an absolute pain. I'm sorry my friend I got so behind with notifications I'll catch up with you tomorrow.

• Philippines
20 Jan
it is okay, my friend. and it is nice to know you are back


• Philippines
20 Jan
i agree with you. our CC needs to be serious with his responsibilities because it should no longer be our task to always understand him and his shortcomings.

• Switzerland
20 Jan
@ridingbet
You are right, your CC must be clear and explain things so that you can all understand.

• Philippines
24 Jan
@LadyDuck
true, but his problem is, he is not very open to us. maybe since this is the very first time that he was given the responsibility by our dean?



• Philippines
24 Jan
yews, that is true. thanks for dropping by.

• Bangalore, India
24 Jan
@ridingbet
I have that sort of responsibility



• Philippines
24 Jan
i agree. the clinical teaching plan (CTP) that i submitted to him 2 weeks ago has not YET been signed by our dean, the vice president for academic affairs, and the training officers of the hospital. that is my reason whenever the nurse supervisor of IMCU ask me about my CTP

• United States
20 Jan
Wow, it seems as if more time should be given and that would also make it easier for you.

• Philippines
20 Jan
it should be. while the case presentation was ongoing yesterday, i brought out the calculator and computed the grades of my present students. this, between my questioning the presenters about the case about acute gastroenteritis.

• Philippines
20 Jan
Your CC got quick thinking and can decide immediately

• Rochester, New York
20 Jan
Do you observe surgeries, etc? it's hard to do the job properly when you don't have everything you require. I deal with this quite a bit at my work.

• Philippines
20 Jan
our CC is the one handling the students in operating room so he has to evaluate the learners under him. i was trained in OR too, and i was the OR nurse in 1999 to 2000.

• Philippines
20 Jan
Could you not request for the latest evaluation tool sheets? You CC does not seem to be a hands on manager preferring to delegate to others instead. If anything good comes out of this situation is your students will be train to think and respond quickly to emergencies.

• Philippines
20 Jan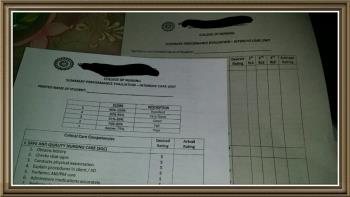 i expected the CC to give me the updated evaluation tools but it were not. the CC also had another leave of absence so when i went to the nursing office to submit my evaluation tools, the former CC asked me why the forms i used were outdated. i told her the present CC gave the copies to me. she handed out the latest updated evaluation tools, and she shook her head in dismay.