This Little Piggy........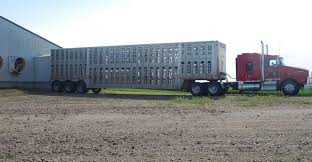 Virginia Beach, Virginia
January 20, 2018 11:31am CST
Tired of running over-the-road but still intending to drive for my living I took a temporary job hauling grain for a local farmer. I had run into an old friend who was already working there and told me about the opening. This position didn't pay as much as I made hauling people's furniture but I didn't have the over-the-road expenses. I also got to be home every night. That, in itself was worth the reduction. Another plus was that with hauling grain, (corn and soybean) I never had to touch the load. After 6 years of carrying heavy furniture up and down stairs, that was one of the biggest perks. All I had to do was report for work, get into the already loaded truck and take it to one of two granaries. One in Norfolk and one in Chesapeake, Virginia. When I got to my destination I would pull onto their scales, exit the cab and wait in a driver's room. The granary crew would then lash my rig to their scales and open the back doors. Then the hydraulically operated scale platform would raise the front high in the air to dump the grain. Perhaps not as exciting as driving cross-country but still, is was a job. There were good points and bad points that I had to accept whether I liked it or not. Unfortunately, less than two week into this job a BIG "not" popped up. That was the day I went in and my Mack was hooked to a different trailer. Not one for grain, but a double decked hog trailer. Right here I need to mention that my employer was also a hog farmer. That was what all the grain hauling was about. All the corn and beans were ground into a high protein mix for hog feed and shipped back to the farmer in bags. Other tan hauling a cow in the back of my ex-wife's uncle's pick-up one time, I had never hauled any "livestock" before. Although I wasn't driving I could still see and feel the effect of the 2 tone bovine shifting. One wrong move from her uncle could have caused the truck to flip. After I had backed the trailer up to the loading chute, several hand set up the ramp and began the operation. I had no idea that I would be asked to "join the party". MORE TO COME: The Crash Note: the trailer in the pic is similar but the tractor was not that modern.
6 responses

• United States
20 Jan
I'm surprised that the animals aren't sedated to some degree to help ease their movement in the trailer. I mean, the process can't be easy for them.

• Canada
20 Jan
Are you planning to hold them to give them a sedative? What about withdrawal times....you don't want sedatives in your bacon.

• United States
20 Jan
@Morleyhunt
— I get your point there. One of the outcries about meat over the past two decades or so is the amount of growth hormones given to animals that are raised as food.

• Canada
20 Jan
@FourWalls
there is also a lot of misinformation out there. I'm involved with the poultry industry in Canada. The rumours persist that growth hormones are used....in reality...it was tried briefly in the 1950's and discarded as not cost effective.


• Daytona Beach, Florida
20 Jan
Here an oink, there an oink. an oink oink here and an oink oink there

• Anniston, Alabama
20 Jan
I can bet that was one hell of a drive! With the load moving back and forth.

• Bunbury, Australia
21 Jan
I can understand that carrying a moving load would create different challenges.

• Eugene, Oregon
20 Jan
Oh my, what a predicament to find yourself in! Can't wait!

• United States
20 Jan
That is one huge trailer. The Crash does sound ominous!