Another Major online Purchase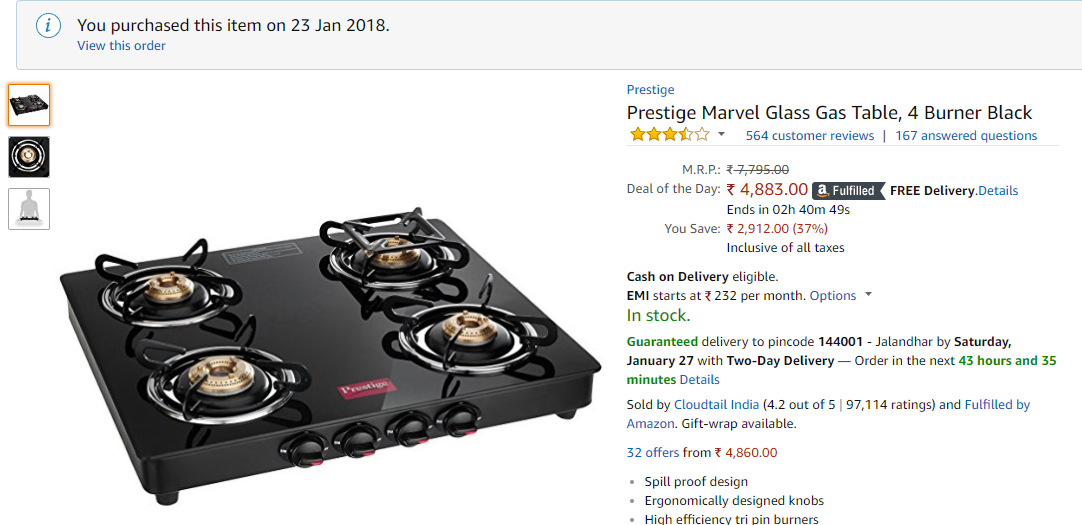 India
January 23, 2018 9:43am CST
I cannot help it and always end up buying things online. Today mom and bro wanted me to buy a Gas stove, also there was a deal on amazon so i order the product today and it will be a four burner one. Like a gift for mom. As per them it will arrive by 29th Jan, but i am sure they will deliver sooner. Have you purchased any online recently? Pic is from Amazon.in
8 responses

• India
23 Jan
The latest item I purchased recently was a ladies purse.So good to see you gifting your mom something your mom wanted.I have never purchased anything installments paying EMI.

• India
23 Jan
No it was not in installments, i paid through Amazon pay

• India
23 Jan


• Haldwani, India
23 Jan

• India
23 Jan


• Perth, Australia
4 May
@thesupersingh
I have purchased some things online recently from eBay. Buying things online can be fun and saves you going down to the store but it depends on the item. There are some things I'd much prefer to go down to have a look in person for.

• India
4 May
I can understand. I prefer clothes offline

• Perth, Australia
4 May


• India
24 Jan
Haha yeah my second last was Redmi note 4 for brother

•
24 Jan
I have not purchased anything online since I'm that kind of a person that prefers brick-and-mortar


• Trinidad And Tobago
24 Jan
I bought a Harry Potter Hallow pocket watch form Empowr site and it took 3 months to deliver. I was happy with it. But generally I hate shopping.

• Bunbury, Australia
24 Jan
That's nice that you've bought your mother a gas stove. We buy online sometimes but not too often.