Has Trump Made America Great...Again...Yet?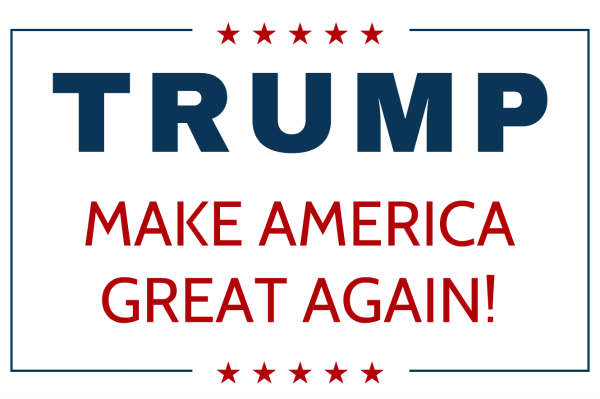 Norfolk, Virginia
5 responses

• Northampton, England
24 Jan
the economy is doing well because the world economy is writing itself credit

• Norfolk, Virginia
24 Jan
Are you saying that eventually and naturally the economy will right itself?

• Northampton, England
24 Jan
@digicashceo
No, we just keep buying stuff on credit cards to keep it all going

• Norfolk, Virginia
26 Jan


• Norfolk, Virginia
24 Jan
Please, don't insult garbage! Lol

• Kingston, Jamaica
24 Jan
First of all... when he said 'Great' he meant 'White'. This is one of those 'codes' that most people caught on first bounce. He was voted in by racists, those who admit and those who deny. By non-white people who hate themselves. He was elected by those who want to make profit and don't care about pollution...millionaire oil barons, owners of coal mines.

• Norfolk, Virginia
24 Jan
Yep. I did. Trump appealed to the lowest common denominator. He appealed to people who cannot and will not come to terms that the demographics of the nation are changing. Now you can see that some Americans don't actually believe the stuff they parrot to other countries. "Go to school, work hard and no matter your background you can be something in America! Maybe even president"! Then it happened! And it happened AGAIN! For EIGHT YEARS president Obama proved these people RIGHT! Instead of being happy a lot of people got mad and then they got scared! Trump appealed to their IRRATIONAL " fears".

• Kingston, Jamaica
24 Jan
@digicashceo
Americans know what they are supposed to say and believe so will reflect it, but inwardly, they remain racist and outraged that a Black Man could be in White House as POTUS. They found the most racist guy they could, and elected him.

• Norfolk, Virginia
26 Jan
@tallawah
Personally I don't think Trump is a "die hard" KKK, Neo-Nazi type of racist. I think he is more of a, not "evil", but corrupted form of Paul of Tarsus. " All things to all men" and he painted himself into a corner. Now does he have racist points of view? Absolutely. But more like Archie Bunker than Adolph Hitler. I remember he used to say some outrageous stuff back in NYC. But don't get me wrong, I DEFINITELY feel he is heading into that zone. Now he has REAL power and is itching to use it!



• Norfolk, Virginia
24 Jan
I agree! He admitted on more than one occasion that being POTUS is harder than he thought!

The U.S. leader lamented his lack of privacy, and said Kim Jong Un's job is "not easy," having taken over a regime at just 27.

• Osijek, Croatia (Hrvatska)
24 Jan

• Norfolk, Virginia
26 Jan
@mrki444
He thinks it is! Now you can see why it's important to say NO (sometimes) to your kids. Trump grew up rich (don't know why people believe that "self-made" nonsense) and his father groomed him. Now he's 71 and cannot understand why the office of POTUS is not "all powerful".


• Philippines
21 Mar
I think Pres. Trump is not a racist...he just want to fix America's problems and most people people in the US don't realize that only outsiders can see it. Liberal socialists are the real problem in the US same as here in our country. Liberals don't listen to other people's opinion, they think they know it all. They are rich people who controls the media and feed people's mind with trash and fake news doing what Joseph Goebbels did in Germany. The dollar exchange is much higher compare to Obama's administration. The Liberals allowed China to control US economy through unfair trade practices, currency manipulation etc. What the Liberals like to do is to make people lazy, depend on government money and not producing their own. These are not the values America was founded upon.


•
24 Apr
Somebody's paying attention and questioning what they're told by the establishment.