Hello fishy fishy!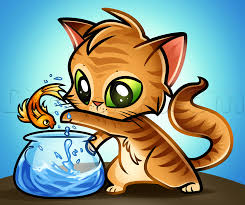 January 26, 2018 4:40am CST
Just a little something to make cat lovers out there smile. (I hope!

) This video is too cute for words for me. Never seen a cat drink from an aquarium neither do I see one dipping her paw in the water to touch the fish

and the fish actually seemed to like her. hehehe

Mine has only watched the fish swim in the aquarium and drinks through the faucet.

Hey little feline, how does fish water taste?


Too cute for words! 🐱🐠💕
2 responses

• Mauritius
26 Jan
Awwwww so cute. For a a moment I was got scared that he might eat the fish.

• Mauritius
26 Jan
@pitsipeahie
Yes giving him little kisses maybe that's how catfish was born LOL

•
26 Jan
My cat I had before Sophie called Mitzi went into the fish tank my ex had and ate the fish. He did not cover it. I have never seen her drink the water though.

•
26 Jan
Oh my gosh poor fishy became a meal! Guess fishy wasn't as lucky as the fish in this video hehe

My cat on the other hand seemed contented just pawing at the fish through the glass and recently watching fish at CatTV


•
26 Jan