And Today's Flower Is...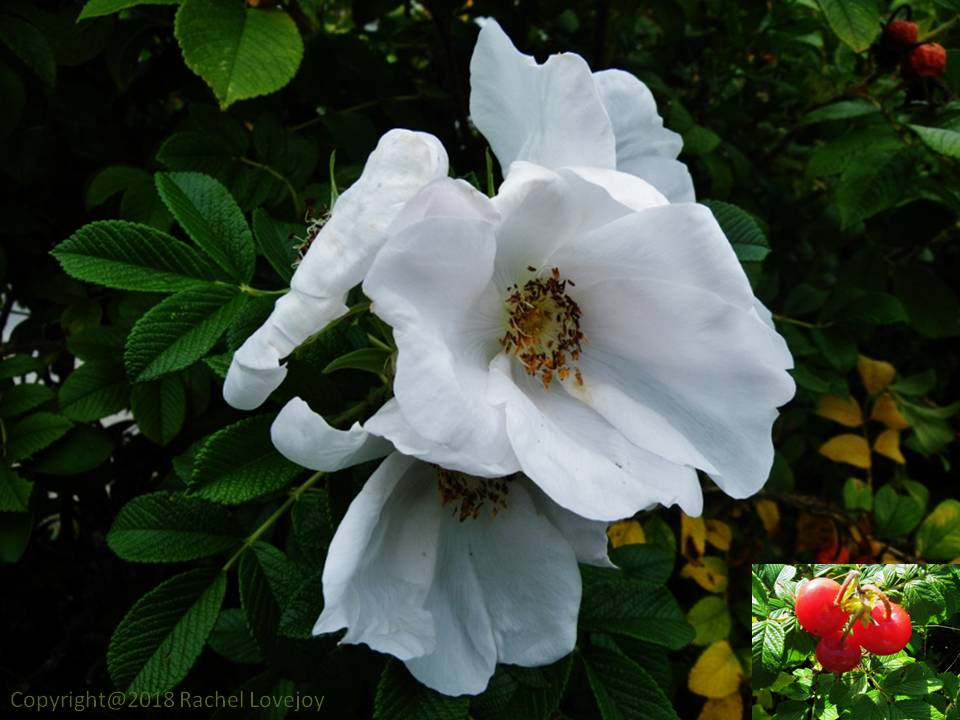 Saco, Maine
January 27, 2018 1:44pm CST
Rosa Rugosa... I took this photo a year ago while on a coastal drive. Known by some as Beach Roses, they come in either bright pink or white varieties. The shrubs they grow on make a good privacy barrier, as their branches are loaded with thousands of sharp prickly spines. In the fall, the flowers fade and fall apart to make room for the small reddish round fruit known as Rose Hips. These are totally edible and can be used to make jam or jelly, and they can be dried to brew as tea. I've never done that myself, as the roses I see are usually on private property. I am perfectly happy, however, with enjoying their beauty and their intense fragrance. Photo Copyright@2018 Rachel Lovejoy
9 responses

• United States
27 Jan
Now, that is a delicate little beauty. Such a delight your sharing of the flowers has been to me!! Thank you!

• Saco, Maine
27 Jan
You're welcome. I've been fooling around with PowerPoint, where I can overlay slides like you see in this one. Came out pretty good, even if I do say so myself. Glad you're enjoying the show!

• Boise, Idaho
27 Jan
Lovely flowers. Nice to have on the beaches. Must be pretty to see.

• Saco, Maine
28 Jan
It is. In most areas, they grow along the beach roads and serve as a barrier to keep people from walking across protected areas where dune grass grows.

• Boise, Idaho
28 Jan
@Raelove
......Good natural barrier. Nice.

• Saco, Maine
28 Jan

• East Tawas, Michigan
27 Jan
What a lovely specimen! It's beautiful, Rachel!

• Philippines
28 Jan
That's a really adorable flower. I love flowers and I love to be surrounded by flowers. I love their beauty and their scent!

• Saco, Maine
28 Jan
I can't be sad when I look at flowers.

• Philippines
29 Jan

• India
28 Jan
Hedging with roses is quite rare atleast where I live. Rose cultivation is difficult here although I do attempt and have a few of them. Up North in India roses do grow wild.

• Saco, Maine
28 Jan
These roses are different from tea roses and other multiflora types that are grown for their beauty. These are very simple flowers that grow on very dense bushes, as opposed to those that grow on a single plant or on climbing canes. These are not as spectacular to look at. But their scent is something else entirely.

• Bunbury, Australia
27 Jan
This is such a pretty flower and I love the fact you've included a photo of the berries. I'm really enjoying your flower series.

• Saco, Maine
28 Jan
Oh I'm glad. I'm having fun sharing those photos!


• United States
27 Jan
That is a really pretty flower. I like the pictures that you post of them.

• Saco, Maine
27 Jan
Oh good. Glad you're enjoying them. I'm trying to do a composite photo right now. Hope it comes out.

• Los Angeles, California
27 Jan

• Saco, Maine
27 Jan
Dazzling, isn't it? Such beauty brings me to tears...