How Will You Spend Christmas This Year~?


United States
6 responses

• Trinidad And Tobago
27 Nov 06
Thankfully, this year I'll be at home with my family and friends and my husband. Last year I was in another country and I couldn't be with them. This year I'm so grateful for the opportunity to be around them for this special season.

• United States
28 Nov 06
Happy holidays to you also. I'll spend Christmas with my family, but past that I really don't know. I'm still trying to block the thought from my head. LOL. I did order some gifts and a lot of them came in today, so I'm going to have to break down and at least put a tree up, I guess, as I have no where to put the gifts.

• United States
1 Dec 06
Yes, there's a lot to be said for keeping it simple. I bought a small artificial, but life like tree, I leave the lights on every year, put a sheet over it that way and put it in the basement, til the next year.

• United States
27 Nov 06
I will be spending christmas with my parents and my sister at my parents house. We will go to church together as always, open gifts, and have a big meal together. We will also play some board games and share some laughs and listen to christmas music.

• United States
1 Dec 06
Yes, that's the best kind of time!

• China
1 Dec 06
thankyou ! i will spend it with my girl friend!

• China
29 Nov 06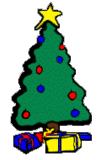 I am going to have a strange Christmas. On one hand I am very happy to be going home to see my family. I didn't get to go home last year, so this year I will be glad to be home. But I won't get to see my boyfriend for two weeks before Christmas. I am quite disappointed and saddened by that. :( Still, I should have a good Christmas and am lucky to be able to see my family this year.

• United States
30 Nov 06
TY & Merry X-mas 2 U! It is wonderful you get to be with your family this year..I am sorry that you cannot also have your boyfriend to spend it with you..Maybe the day will come when your boyfriend will be a part of your family and that X-Mas is yet to be~ :)