Why I hate Toshiba Lap Tops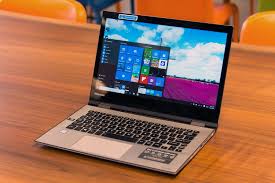 Kingston, Jamaica
January 29, 2018 4:34pm CST
In 1988 I got my first Laptop. It was a Toshiba. It was not pleasant. I went through a number of other brands during the intervening 20 years; most were Dells. My last Dell was dying and Ex-2 gave me a Toshiba. (There is a Reason why an Ex is an Ex) From the minute I got it, I had to spend most time getting rid of the junk on it, loading useful programs. It takes forever to load. Unlike a Dell, which comes up within a minute, the Tosh takes ... well put it like this, you can take a shower and wash your hair before it comes up. Today it decided it was NOT going to work. My entire morning was destroyed while I used my geeky powers to get the Tosh to work. It finally came up in birth mode, meaning I had to get back and reload and remove and tweak. How old is this computer? I got it in June I am writing in January. Six months and I'm on the phone to others to buy a new note book. Six Months.
4 responses

• Philippines
30 Jan
Toshiba is best for media and display, but not as powerful and competitive. Though they have that only with a price doubled. Dell's interface is not that eye catching but lasted for years and can compete still for newer specs for 5yrs. Also with lenovo and acer. But you cant see any laptop as smooth as toshiba's rendering (i mean it is really best in graphics). As what most of my friends say.



• Philippines
30 Jan
@Plethos
I also got a Toshiba laptop with Vista in it.I used it for 10 yrs with less troubles.The problem is support for Vista is no longer available and most programs can't be updated.Do you have ways to utilize laptops with old OS.


• Philippines
30 Jan
My first laptop was a Toshiba as well and I switched to Sony vaio after that which lasted only for two years and during those two years I had some problem with it heating up! So I decided to switch to MacBook Pro and since then I've been a Mac user and I'll never switch back. My MacBook Pro served me for 5 years without any issues when I decided to get the latest model. Now my son is using my old MacBook Pro, still without any issues.

• Roseburg, Oregon
29 Jan
Six months is not enough time for a laptop to work.