Favorite movies from 1992 # 4- Batman Returns.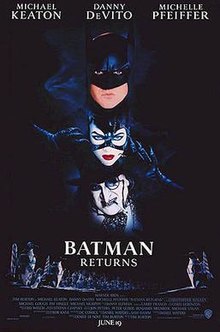 Banks, Oregon
January 30, 2018 4:56am CST
Coming in at # 2 on my favorite movies from 1992 series is Batman returns, starring Michael Keaton as Batman, Danny Devito as Penguin, Michelle Pfeiffer as Cat Woman and, Christopher Walken as Max Shreck a corrupt tycoon, it was a phenomenal cast. I still remember seeing this one in theaters. I think Devito was the best actor to ever portray Penguin, it was also awesome to see Michelle Pfeiffer as Cat woman, she was also great in the part. Some information verified at Wikipedia. It was directed by Tim Burton. Photo is from Wikipedia.
7 responses

• Kenya
30 Jan
When these actors are combined, you are in for a great treat

• Banks, Oregon
31 Jan
Yes hard to go wrong with a cast that good.


• Banks, Oregon
31 Jan

• United States
30 Jan
Good morning.I am not sure if I saw this one?

• Banks, Oregon
30 Jan
Pretty good movie if you get a chance.

• Philippines
6 Feb
Loved Danny Devito's portrayal of Penguin in this movie.


• Green Bay, Wisconsin
31 Jan
I think I saw that one on TV when it came out. It was okay.

• United States
31 Jan
This is not one of the Better Batman's in my opinion but I do think Danny Devito plays a Good penguin.