Cat Logic 101: Part Three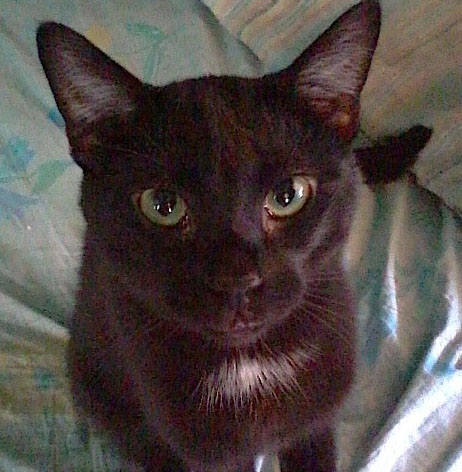 United States
January 30, 2018 5:35pm CST
For the most part your cat(s) may be an "angel". Oh yes, perhaps you have no need for an alarm clock since your cat(s) will wake you up wanting their breakfast. Then the rest of the day and night your cat usually snoozes. or may meander around the home, but "quietly". Then you go to bed to sleep..that's when your cat(s) decide it's the purrfect time to go batty crazy, run around liker a lunatic for no reason at all and especially anytime after 2 or 3 A.M. You actually ask your cat(s)..."why don't you do this behavior during the day or early evening?" You just get a look that seems to say "Because...I'm a cat" Photo is of my "Angel" cat Ouija
10 responses

• United States
30 Jan
Actually, Scar drives me batty most of the day and then decides it is 'our' bedtime between 6-7 every night. Of course, it is also 'our' time to get up 2-3 every morning.


• United States
30 Jan
I'm lucky that my darling doesn't wake me up for breakfast early in the morning. And hey...what happened to your profile photo thingie?

• United States
31 Jan
@pyewacket
I decided to be weird for a bit...or weirder


• United States
30 Jan
I don't have any animals, but when I stay with a friend? Her cats stay in the living room and I will most assuredly be awoken thrice in one night with their antics. Luckily they have a self feeding food dish and it only needs filling up every week or so..

• United States
30 Jan
Ouija is a lovely cat. We adopted a kitten we named Missy. She lived to the ripe old age of 16, but she was a biter and a scratcher when we least expected. I suppose her response, if questioned as to why she felt the need to bite and scratch us when we least expected, would also be "Because...I'm a cat."

• El Paso, Texas
31 Jan
Ouija is beautiful with such an innocent look

Yeah, mine does that too


• United States
31 Jan
Yup...my Ouija is so innocent


• Trinidad And Tobago
31 Jan
Sounds like you got that right.


Had 6 of them.

• United States
31 Jan
Weirdly,my cat usually sleep with me during the night without meowing.


• United States
31 Jan
only feebee really has ya-ya's..the other 2 are kinda "meh" about it. boo and manny usually wait til 5 or 6 am to demand breakfast..which is annoying on days i have to work.

• Los Angeles, California
31 Jan
Cats are nocturnal. They love exploring in the dark.

• Cuyahoga Falls, Ohio
31 Jan
This sounds like my cat Wylie all the time.

• United States
6 Feb
Of course you know that cats see better in the dark than we ever will. Also, their prey is mostly active after dark as well. Having said that most pet cats will learn to be more active during the day if you don't reward them by responding to them in the middle of the night.