Cigarette card values.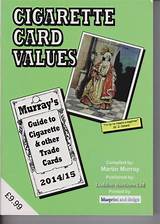 United Kingdom
February 1, 2018 5:32am CST
Cigarette card values is an annual catalogue listing the current prices of cigarette cards. Although smoking is no longer popular , there is still a huge number of people who collect cigarette cards. This sort of catalogue is often printed by an auction house that runs online or postal auctions as well as sales at their auction venue. I do not collect cigarette cards myself, but I should imagine it would be a good hobby for somebody who was into that sort of thing. Many of these cards are old, rare and worth a lot of money.
1 response